Off. T.J. McCabe:
McCabe ist der zweite Scharfschütze des Teams. Zudem ist McCabe auch ein Hitzkopf, bei dem sein Temperament manchmal mit ihm durchgeht. Trotzdem ist er im Team unverzichtbar.
McCabe ist im Grunde der nebensaächlichste Hauptdarsteller, alle anderen kommen in der Serie besser zur Geltung, während McCabe meistens recht blass blieb.
McCabe is the second sniper of the team. In addition, McCabe is also a hot-head, where his temper sometimes goes through with it. Nevertheless, it is indispensable in the team.

McCabe is basically the nebensaächlichste actor, everyone else better get on the show to advantage, while McCabe was usually quite pale.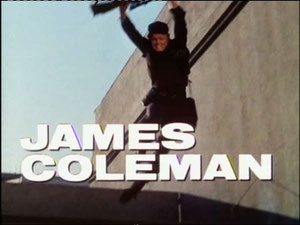 Der Schauspieler James Coleman
The Actor James Coleman

Über den Schauspieler James C. Coleman ist sehr schwer etwas herauszufinden, was man in seiner Biographie schreiben könnte. Nicht mal ein Geburtsdatum ist irgendwo bekannt.
Coleman lebt heute unter seinem bürgerlichen Namen James 'Jim' Lawrence und hat sich von der Schauspielerei nahezu gänzlich zurückgezogen.
Bekannt ist, dass James Coleman zu den Dreharbeiten der Serie "SWAT", spezielle zur Folge "Der Heckenschütze" die Schauspielerin Ronne Troup kennenlernte, die darin eine Gastrolle spielte (als Freundin von Jim Street aka Robert Urich). Das Paar heiratete kurz darauf und bekam 3 Kinder. Mittlerweile ist das Paar wieder geschieden. Mittlerweile ist Coleman / lawrence jedoch wieder verheiratet und hat mittlerweile einen Enkel.
About the actor James C. Coleman is very difficult to figure out something that you could write in his biography. Not even a date of birth is known somewhere.
It is known that James Coleman to the filming of the series "SWAT", specific to the episode "Death Carrier"  met the actress Ronne Troup, they came to know that in a guest role playing (as a girl-friend of Jim Street aka Robert Urich). The couple married shortly thereafter and got 3 children. Meanwhile, the couple is divorced.

As soon as I get out more, I still carry it here.
FILMOGRAPHIE: