AVERY BROOKS (HAWK)
Hawk (Avery Brooks)
Hawk ist sowas wie "der beste Freund" von Spenser, auch wenn er es nie in diesem Zusammenhang nennen würde. Fakt ist, dass Hawk Spenser respektiert und er Achtung vor ihm hat, aufgrund Spensers eiserenen Willen, dass er immer genau das tut, was er auch wirklich sagt.  Hawk unterstützt Spenser oft bei seinen Fällen, wenngleich Spenser ihn selten dafür bezahlt - oder wenn, dann eher in "Essen gehen" oder ähnliches. Hawk kann einen Menschen beschatten, ohne dass er es mitbekommt, arbeitet auch als Leibwächter. Hawk steht nicht immer auf Spensers Seite. Es kommt auch immer wieder vor, dass Hawk seine Dienste in einer Person stellt, gegen den Spenser arbeitet - dennoch bleibt Hawk "seinem Freund" immer loyal, auch wenn es mal ab und an in Fäusten ausgetragen wird. Hawk liebt das gute Leben, geniesst das, was er in seiner schwierigen und ärmlichen Kindheit nie wirklich hatte. Hawk wohnt in der noblen Bostoner Wohngegend Beacon Hill, fährt einen edlen BMW, kleidet sich teuer und bevorzugt Lokale und Restaurants, die sich ein normal sterblicher kaum leisten kann. Hawk ist zudem ein perfekter Schütze, bevorzugt dazu eine riesige .357ger Magnum. Hawk ist ein sehr schweigsamer Mensch, aber wenn er was zu sagen hat, sollte man besser zuhören. Hawk ist in  ganz Boston von Unterwelt und Polizei gefürchtet und wird besonders von der Bostoner Unterwelt respektiert, wovon auch Spenser profitiert. 
Hawk is something like the "best friend" of Spenser, though he would never mention it in this context. The fact is that Spenser and Hawk respects he has respect for him, because Spenser eiserenen will, that he always does exactly what it says really. Hawk Spenser often supported in his cases, although it rarely Spenser paid for it - or if, then "eating out" in a more or something similar. Hawk can shade a person without him knowing about it, also works as a bodyguard. Hawk is not always on Spenser's side. It happens time and again that Hawk provides its services in a person against whom Spenser is working - yet remains Hawk "his friend" always loyal, even when things take place now and then into fists. Hawk loves the good life, enjoying what he in his difficult and impoverished childhood never really had. Hawk lives in the posh Boston's Beacon Hill neighborhood, drives a BMW precious, expensive dresses and preferred bars and restaurants, which can hardly afford a normal mortal. Hawk is also a perfect shot, preferably to an enormous .357 Magnum eng. Hawk is a very silent man, but if he has to say what you should listen better. Hawk is feared throughout the underworld and the police of Boston, and is respected by most of Boston's underworld, which also benefits from Spenser.
Hawk - Charakterprofil:
Nachname: unbekannt
Vorname: unbekannt
Eltern: unbekannt
Kindheit: Eltern starben, als Hawk noch klein war, wuchs in den Slums von Washington bei einem Freund seines Vaters auf
Karriere: Arbeit als Profi-Boxer, versuchte sich eine Zeitland erfolglos als Privatdetektiv, später versch. Jobs als Geldeintreiber, Profischläger und Profikiller. Hilft Spenser öfters bei seinen Aufträgen
Familienstand: einmal verheiratet, seine Frau wurde ermordet, keine Kinder
Hobbies: Elegante und starke Frauen, Guter Wein, Boxen und anderer Leistungssport, Waffen
Autos: Verschiedene Typen von BMW (TV-Serie & Romane) und Mercedes (Romane)
Hawk - Character Profile:

Last name: unknown
First name: unknown
Parents: unknown
Childhood: parents died when Hawk was still small, grew up in the slums of Washington with a friend of his father's
Career working as a professional boxer trying unsuccessfully for some time as a private land, and later various jobs as a debt collector, professional clubs and professional killers. Spenser often helps in his job
Marital status: Once married, his wife was murdered, no children
Hobbies: Elegant and strong women, good wine, boxes and other competitive sports, weapons
Cars: Different types of BMW (TV series and novels) and Mercedes (novels)
Der Schauspieler Avery Brooks:
(Quelle: wikipedia.org)
Avery Brooks (* 2. Oktober 1948 in Evansville, Indiana) ist ein US-amerikanischer Schauspieler und Regisseur.
Nach dem Abschluss seines Regie- und Schauspielstudiums begann seine Karriere im Theater. Während dieser Zeit setzte er sich viel für die Rechte der Schwarzen ein. Bekannt wurde er 1993 in der Science-Fiction-Serie Star Trek: Deep Space Nine (DS9) als Commander (und später Captain) Benjamin Lafayette Sisko, der kommandierende Offizier der Raumstation Deep Space 9. Zugleich war er der in dieser Serie wichtige "Abgesandte". Zuvor konnte man ihn schon als "Hawk" in der Serie "Spenser", neben Robert Urich, als Freund der Hauptfigur sehen, sowie im Spinoff dieser Serie mit dem Serientitel "Hawk", in der er die Titelrolle spielte.
Ein Highlight seiner Rolle in Star Trek war eine Folge, in der er den schwarzen Schriftsteller Benny Russell verkörperte, der für ein Science-Fiction-Magazin im New York des Jahres 1953 Kurzromane schreibt. Diese Folge (Jenseits der Sterne) zeigt die Probleme mit der Unterdrückung und dem Rassismus in den USA der 1950er Jahren. Nach dem Ende der sieben Staffeln langen Serie DS9 im Jahre 1999 bekam er einige Nebenrollen in TV- und Kinoproduktionen. Er spielte am Theater, sprach mit seinem tiefen Bariton Kommentare in Dokumentarfilmen des Discovery Channel und National Geographic und nahm Hörbücher auf.
Das breitere Publikum lernte Avery Brooks im Jahre 1998 mit dem Film American History X kennen, in dem er den Schuldirektor der Schule, die beide Hauptcharaktere besuchten, spielte.
Avery Brooks (born October 2, 1948 in Evansville, Indiana) is an American actor and director.

After completing his directing and acting studies began his career in the theater. During this period he spent a lot for the rights of blacks. He became famous in 1993 in the science fiction series Star Trek: Deep Space Nine (DS9) as Commander (later Captain) Benjamin Sisko, the commanding officer of space station Deep Space 9 He was also the key in this series "Emissary". Previously, he was already a "hawk" in the series "Spenser: For Hire" with Robert Urich, see a friend of the protagonist, as well as the spinoff of this series with the series title "Hawk" in which he played the title role.

A highlight of his role in Star Trek was an episode in which he portrayed the black writer Benny Russell, a science fiction magazine in New York in 1953 to write short stories. This sequence (Beyond the Stars) shows the problems of oppression and racism in the U.S., the 1950s. After the end of the seven seasons long series DS9 in 1999 he got a few minor roles in TV and cinema productions. He played at the theater, with his deep baritone voice comments in documentaries for the Discovery Channel and National Geographic and recorded audio books.

The wider audience got to know Avery Brooks in 1998 with the movie American History X, in which he played the headmaster of the school, visited the two main characters.
Filmographie:
 Star Trek: Legacy (Video Game)
Captain Benjamin Sisko (voice)
Zitate von Aussagen, die Avery Brooks gemacht hat:

Es ist das Jahr 2000. Aber wo sind die fliegenden Autos? Mir wurde als Kind versprochen, dass es im Jahre 2000 fliegende Autos geben wird! Ich sehe keine fliegenden Autos! Warum? Warum? Warum?

Das Beste, was es war, einen Star Trek Captain zu spielen: "Einer der Gründe, dass ich akzeptiert hatte, als ich gefragt wurde, um Star Trek anzunehmen war, um ein einzelnes Kind eine Chance zu geben, die lange Gedanken zu sehen, um selbst zu sehen wie es in 400 Jahren aussehen wird. Es fiel mir ein, dass wir sicherstellen, dass wir vor den Kindern die sich ständig verändernden Horizont zu halten, dass die Kinder wissen, dass es die Möglichkeit, dass die Kinder wissen, dass jemand nicht zu nehmen oder zu zerstören, bevor sie diese Welt haben eine Chance. Wir haben dieses Versprechen zu halten, dass vor [von ihnen] gegeben wurde... "(September / Oktober 2006 Star Trek Magazine Ausgabe # 1)

Auf die Frage, wie er sich fühlte über das Ende von "Star Trek: Deep Space Nine" (1993):.. "Die Show lief sieben Jahre lang. Es war ein langer, langer Weg, denn ich hatte einige Vorbehalte zunächst als ich das Drehbuch gelesen hatte [für die Serienfinale "What You Leave Behind"]., weil ich dachte, sie würden wirklich Sisko töten. Ich nahm das sehr wörtlich, und bat die Produzenten, "Warum tötet ihr Sisko?" Die Produzenten sagten mir: "Wir haben es gemacht, um aus ihm einen Gott zu machen! "der Unterschied ist natürlich, Sie haben Sisko mit einem anderen Kind auf dem Weg gegeben. Sie haben noch Sisko mit einem jungen Mann [Jake Sisko] versucht, seinen Weg zu finden, und Sie machen ihn zu einem Gott! Das war nicht fair. "(September / Oktober 2006 Star Trek Magazine Ausgabe # 1)

Sein Rat an angehende Schauspieler: "Behalten Sie Ihren Traum-Lassen Sie sich nicht von anderen Menschen von ihrem Traum abbringen. Lassen Sie Ihr Herz und Verstand selbst darüber entscheiden. Lassen Sie sich nicht Ihre Commerce bestimmen, was Sie... ausschließlich zu tun haben "(September / Oktober 2006 Star Trek Magazine Ausgabe # 1)

Interview über seine Arbeit mit NBAF (National Black Arts Festival's): "Wenn ich ein Zimmermann wäre, würde ich einen Weg finden,  mit dieser Fähigkeit mich zu  stärken, die so ist wie ich bin so viel wie Gott mir gegeben hat -.. Meine Meinung, meine Stimme, mein Herz, mein Kunstformen - Dies ist die höchste Form von Ausdruck auf dem Planeten von Gott, für mich, für dich. für euch. "
Personal Quotes
It's the year 2000. But where are the flying cars? I was promised flying cars! I don't see any flying cars! Why? Why? Why?
On the best thing about playing a Star Trek captain: "One of the reasons that I accepted, once asked to do Star Trek, was to give a single child a chance to see the long thought, to see themselves some 400 years hence. It occurred to me that we must ensure that we keep in front of children the ever-changing horizon. To let the children know that there is possibility, to let the children know that someone is not going to take away or destroy this world before they have a chance. We have to keep that in front [of them]." (Sept/Oct 2006, Star Trek Magazine issue #1)
On how he felt about the ending of "Star Trek: Deep Space Nine" (1993): "The show ran for seven years. It was a long, long road. I did have some reservations initially when I read the script [for the series finale "What You Leave Behind"], because I thought they were going to really kill Sisko. I took that very literally, and asked the producers, "Why are you killing Sisko?" The Producers told me, "Look we thought you'd be thrilled because we had made him a God!" The difference, of course, is you have Sisko with another child on the way. You still have Sisko with a young man [Jake Sisko] trying to find his way, and you make him a God! That wasn't fair." (Sept/Oct 2006, Star Trek Magazine issue #1)
His advice to aspiring actors: "Hold on to your dream. Don't let the people shake you from your dream. Don't let form become more important than the substance of your heart and mind. Don't let commerce determine what you do exclusively" (Sept/Oct 2006, Star Trek Magazine issue #1)

Additionally, he served as the National Black Arts Festival's (NBAF) Artistic Director throughout the 1990s in Atlanta, Georgia. An actor, activist, musician, director, and educator of epic proportions, Brooks was quoted in an interview about his work with NBAF and his performances: "If I were a carpenter, I'd find a way to empower using that skill. I'm using as much as God has given--my mind, my voice, my heart, my art forms. This is the highest form of expression on the planet from God, to me, to you".
Avery Brooks: Der Musiker
Brooks ist auch musikalisch veranlagt und spielt Jazz-Piano, und hat als der große Bariton / Schauspieler / Gelehrte Paul Robeson in dem Stück mit dem Titel "Paul Robeson" durchgeführt. Er sang die Führung in der A. Anthony Davis Oper "X: The Life and Times of Malcolm X", und trat als "Theseus" und "Oberon" in Shakespeares "Ein Sommernachtstraum" auf der Washingtons Arena Stage.
His maternal grandfather, Samuel Travis Crawford, was a tenor who graduated from Tougaloo College in Mississippi in 1901. Crawford toured the country singing with the Delta Rhythm Boys in the 1930s. Brooks also is musically inclined having played jazz piano, and has performed as the great baritone/actor/scholar Paul Robeson in the play entitled "Paul Robeson". He sang the lead in the A. Anthony Davis opera "X: The Life and Times of Malcolm X", and performed as "Theseus" and "Oberon" in Shakespeare's "A Midsummer Night's Dream" at Washington's Arena Stage.
Theater Engagements (Theatre Engagements)
(Februar 2004) Avery Brooks war  in "King Lear" (König Lear) zu sehen sein am Yale Repertory Theatre, vom 13. Februar - 13. März, 2004. Erspielte die Hauptrolle.

(September 2005) Avery war auf der Bühne als "Othello" von William Shakespeare zu bewundern (Regie: Michael Kahn), am Shakespeare Theatre am Lansburgh in Washington, DC, vom 30. August - 30. Oktober, 2005.

(Oktober 2007) Während einer Star Trek Convention in Washington, DC spielte er in dem Stück  "Tamerlan". Danach war er in dem Stück sogar in Neuseelsand zu sehen.

(September 2008) spielte Avery auf der Bühne als Willy Loman in Arthur Millers "Tod eines Handlungsreisenden" am Oberlin College in Oberlin, Ohio vom 18. - 21. September 2008.

(September 2008) Die Teilnahme an der Schließung von Star Trek: The Experience, war er im Las Vegas Hilton zu sehen. (nochmals als Captain Sisko)
(February 2004) Will be appearing in "King Lear" at the Yale Repertory Theatre, from February 13 - March 13, 2004.
(September 2005) Appearing onstage as "Othello" by William Shakespeare (directed by Michael Kahn) at the Shakespeare Theatre at the Lansburgh in Washington, D.C., from August 30 - October 30, 2005.
(October 2007) Still attending Star Trek conventions, including one in New Zealand. He will be appearing in "Tamburlaine" in Washington, D.C.
(September 2008) Appearing onstage as Willy Loman in Arthur Miller's "Death of a Salesman" at Oberlin College in Oberlin, Ohio on September 18-21.
(September 2008) Attending the closing of Star Trek: The Experience at the Las Vegas Hilton
Avery Brooks auf der FedCon 2007 in Bonn
(Avery Brooks at FedCon 2007 in Bonn)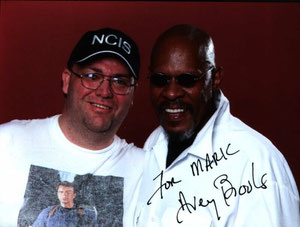 Avery Brooks beim 'Captains Table' 2011 in Düsseldorf
Avery Brooks at the 'Captains Table', 2011 in Dusseldorf
Ich selbst konnte beim Captains Table leider nicht dran teilnehmen, allerdings ein guter Freund von mir, der auch Bilder gemacht hatte.
Quelle der Bilder: Thorsten Bossert
I myself was at the Captains Table not participate to it, but a good friend of mine who had also taken pictures.

Source of images: Thorsten Bossert (a friend of mine)
Avery Brooks in William Shatner's "The Captains" (2011)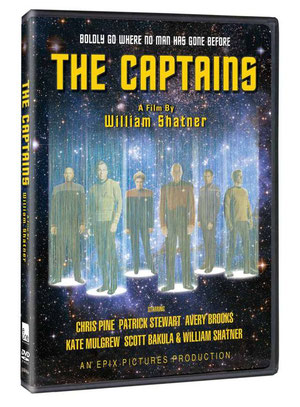 Star-Trek-Ikone William Shatner (Captain Kirk) hat 2011 ein 96 minütigen Dokumentarfilm zu allen Star Trek-Captains gemacht, indem er alle Kapitäne (Patrick Stewart, Avery Brooks, Kate Mulgrew, Scott Bakula und Chris Pine) zu einem entspannten Interview befragte. Recht informativ, witzig und schlagfertig.
William Shatner besuchte Avery Brooks in dessen Haus, genauer gesagt in einem Raum, wo Avery seine Bücher aufbewahrt und auch sein Klavier steht. So hat er William Shatner auch einiges seiner eigenen Klavierkompositionen vorgespielt. Mehrere Stücke wurden auch für den ganzen Film als Hintergrundmusik verwendet
Ich habe ein paar Screenshots von den Szenen mit Avery Brooks gemacht:
Star Trek icon William Shatner (Captain Kirk) has a 96 minute documentary made in 2011 to all Star Trek captain, when he asked all captains (Patrick Stewart, Avery Brooks, Kate Mulgrew, Scott Bakula and Chris Pine) at a relaxed interview . Quite informative, funny and quick witted.

William Shatner visited Avery Brooks at his house, specifically in an area where Avery kept his books and his piano is. He has also played William Shatner some of his own piano compositions. Several pieces were used for the whole movie as background music

I took some screenshots of the scenes with Avery Brooks
Zur Vollansicht des Bildes immer das gewünschte Bild anklicken:
To view the full image click on the image you want more: