BARBARA STOCK (DR.SUSAN SILVERMAN)
Dr. Susan Silverman ist die Lebenspartnerin von Spenser. Sie lernen sich in dem ersten Spenser Roman "Spenser und das gestohlene Manuskript" kennen, dieser Roman spielt inhaltlich vor dem TV-Pilotfilm. Susan arbeitet anfangs an der Highschool in Smithfield als Schulpsychologin und macht sich später als "vollwertige" Psychologin mit eigener Praxis selbstständig. Susan schätzt Spenser sehr, sie mag an ihm seine sanfte, charmante  und einfühlsame Art, seine Prinzipien und sein Geschick fürs Kochen. Susan selbst ist alles andere als eine gute Köchin und so passiert es sehr oft, dass Spenser statt Susan den Kochlöffel in der Küche schwingt. Susan ist allerdings überhaupt nicht froh darüber, dass Spenser als Privatdetektiv meistens in Kapitalverbrechen (Mord, Entführung,Raub,etc.) verstrickt wird und sie mag es absolut nicht, dass Spenser immer bewaffnet sein muß. Susan ist eine Person, die lieber Dinge ausdisktuert und bespricht, anstatt zur Gewalt zu greifen. Spenser selbst stimmt ihr zwar zu, erklärt ihr aber immer wieder, das er seine Waffe nur als Verteidigung braucht. Einmal sagte er zu ihr: "Sobald die bösen Buben mit Kochlöffeln in den Krieg ziehen, nehme ich auch einen Kochlöffel"  Die Tatsache, dass die Gewalt oft zu Spenser  berufsbedingt gehört, hat Susan schon mehrfach an der Beziehung zweifeln lassen, was sogar soweit ging, dass Susan Spenser für eine ganze Zeit verläßt, um sich selbst zu finden. Dieses sieht man in der Serie in der 2. Staffel. In den Romanen wird auch später öfter darauf eingegangen, auch was Susan in der Zwischenzeit selbst gemacht hat. (siehe auch im Charakterprofil weiter unten) Aber Susan kehrte selbstbewust zu Spenser zurück. Beide sind sich einig, dass jeder seinen Freiraum braucht, so dass beide nicht zusammenwohnen, sondern jeder seine eigene Wohnung hat. Das Thema Kinder kommt ab und an mal auf, Susan war sogar einmal schwanger, verlor das Kind aber sehr früh in der Schwangerschaft. Spenser und Susan beschliessen später, kinderlos bleiben zu wollen. Stattdessen legten sich beide später einen Hund zu, die Pearl hieß (spielt alles nach der TV-Serie nur in den Romanen). Susans psychologische Art hilft Spenser auch mehrfach in seinen Fällen.
Dr. Susan Silverman, Spenser's life partner. You learn in the first Spenser novel, "Spenser and the stolen manuscript" know, this novel takes place before the content of television pilot. Susan works at the beginning of high school in Smithfield as a school psychologist and later makes a self-employed "full" psychologist in private practice. Susan appreciates Spenser much she likes him, his gentle, charming and sympathetic nature, his principles and his skill in cooking. Susan is itself far from being a good cook and so it happens very often that Spenser takes Susan swings the wooden spoon in the kitchen. Susan is not at all happy about it, however, that as a private investigator Spenser, mostly in capital crimes (murder, kidnapping, robbery, etc.) involved, and they absolutely do not like it that Spenser must always be armed. Susan is a person who prefers things ausdisktuert and discuss, rather than resort to violence. Spenser even though she agrees, but tells her repeatedly that he needs his weapon only as a defense. He once said to her: "When the bad guys go with wooden spoons in the war, I take a cooking spoon," The fact that violence often occupationally exposed to Spenser belongs, has Susan can have several doubts about the relationship, which even went as far as that leaves Susan Spenser for quite a while to find herself. This can be seen in the series in the 2nd Season. In the novels will also be discussed later, often to well what Susan has done in the mean itself. (See also the character profile below) But Susan went back to Spenser selbstbewust. Both agree that everyone needs his space, so that both do not live together, but each has his own apartment. The issue of children coming from and at times on, Susan was even pregnant once, but lost the baby very early in pregnancy. Spenser and Susan decide later, decided to remain childless. Instead, two dropped later to a dog that was called the Pearl (played by all the TV series only in the novels). Susan's psychological type helps Spenser more than once in his cases.
Charakterprofil:
Nachname: Silverman, geborene Hirsch
Vorname: Susan
Eltern: Vater war Apotheker, Apotheke in der Humphrey-Street, Mutter war Hausfrau
Kindheit: bis zum 18. Lebensjahr Einzelkind, bekam dann eine Schwester. Der Vater führte die Familie jeden Freitag abend zum Essen aus ins Hotel Edison in Lynn. Gutes Verhältnis zu ihrem Vater, etwas schelchteres zur Mutter.
Karriere: Nach der Scheidung studierte sie Pschologie, bestand diese mit Auszeichnung, arbeitete dann als Schulpsychologin, später machte sie sich selbständig.
Familienstand: geschieden von Brad Silverman (Sterling), keine Kinder. Diverse Beziehungen. Lebenspartnerin von Spenser, nach der Trennung war sie in New York einige Zeit mit Russell Costigan liiert, kehrt dann zu Spenser zurück. Susan war schwanger von Spenser, verlor das Kind durch einen gemeinsamen Autounfall. Hat seit einigen Jahren mit Spenser zusammen einen kleinen Mischingshund mit Namen Pearl.
Hobbies: Intellektuelle Bücher, gesundes Essen, Pelzmäntel, ihr Hund Pearl, klassische Musik, guter Wein
Autos: diverse, wechselnde Marken
Character profile:

Name: Silverman, Hirsch was born
First name: Susan
Parents: father was a pharmacist, a pharmacy in the Humphrey Street, mother was a housewife
Childhood to 18 Age was an only child, then a sister. The father took the family to dinner every Friday evening from the Hotel Edison in Lynn. Good relationship with her father, something schelchteres to the mother.
Career: After her divorce, she studied Pschologie, this was with honors, then worked as a school psychologist, and later started his own business.
Marital status: divorced from Brad Silverman (Sterling), no children. Various relationships. Life partner of Spenser, after the separation, she had a relationship in New York some time with Russell Costigan versa, then back to Spenser. Susan was pregnant with Spenser, the child lost by a common car accident. Has for some years together with a small Spenser Mischingshund named Pearl.
Hobbies: intellectuals books, healthy food, fur coats, her dog, Pearl, classical music, good wine
Cars: diverse, changing brands
Die Schauspielerin Barbara Stock:
(Quelle: wikipedia.org)

Barbara Stock (* 26. Mai 1956 in Illinois, USA) ist eine US-amerikanische Schauspielerin.
Sie gab ihr Fernsehdebüt 1981 in einer Gastrolle der Serie CHiPs. Von 1985 bis 1988 spielte sie, in 42 Folgen, die weibliche Hauptrolle der Susan Silverman in der Krimi-Serie Spenser an der Seite von Robert Urich. Eine weitere Hauptrolle als Liz Adams spielte sie von 1990 bis 1991, in 19 Folgen, der US-Serie Dallas.
Nebenbei trat Barbara Stock in zahlreichen TV-Produktionen als Gaststar auf.
Barbara Stock (May 26, 1956 in Illinois, USA) is an American actress.

She made her television debut in 1981 in a guest role in the series CHiPs. From 1985 to 1988 she played in 42 episodes, the female lead role of Susan Silverman in the crime series Spenser: For Hire on the side of Robert Urich. Another main role as Liz Adams, she played from 1990 to 1991, in 19 episodes, the U.S. series Dallas.

Besides Barbara Stock appeared in numerous TV productions as a guest star.
Filmographie:

Die Prinzessin und der Marine-Soldat (TV Movie)
Susan
 1981 CHiPs (TV Series)
Officer Paula Woods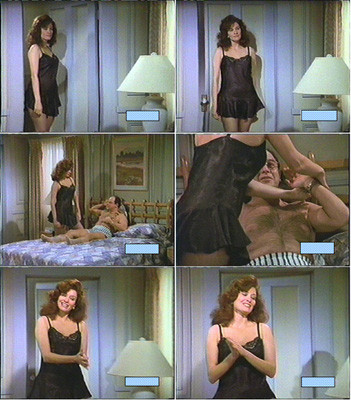 Screenshots zu ihrer Gastrolle  aus der Serie "CHiPs" - Barbaras erster Filmrolle (1981).

Screenshots for its guest role in the series "CHiPs" - Barbara's first film role (1981).

Screenshots aus dem Film "Desire, the Vampire" (1982)

Screenshots from her movie §Desire, the Vampire" (1982)