RON McLARTY (SGT. FRANK BELSON)
Sgt. Frank Belson arbeitet bei der Bostoner Mordkommission und ist zugleich ein guter Freund von Spenser. Interessant bei diesem Charakter ist vor allem der große Unterschied zwischen der in der TV Serie dargestellte Charakter und in den Romanen dargestellte Charakter. In der TV-Serie ist Belson ein gemütlicher, untersetzter Beamte, der mit Leib und Seele in seinem beruf aufgeht, eine große Schwäche für Junkfoot hat, leicht tolpatschig und naiv ist und schneller redet, als er denkt. In den Romanen ist Belson ein schlaksiger Mann, der fürs Essen nichts übrig hat, stattdessen ein Kettenraucher ist, alles andere als tolpatschig und naiv und nicht unbedingt Spenser einen Freund nennen würde, sondern eher einen ehemaligen Kollegen, der ihn eher nervt als nützt und oft nicht verstehen kann, warum Quirk ihn Tipps gibt. In der serie wie in den Romanen ist Belson Junggeselle, wobei Belson in den Romanen später kurzzeitig heiratet, dieses aber nicht glücklich endet. In der TV Serie hatte Belson für eine Episode eine Beziehung zu der Profikillerin Frankie, wobei er nicht wußte, dass sie eine Profikillerin ist (Folge: "Sie liebt mich, sie liebt mich nicht"). Was beide Interpretationen gleich haben ist die tiefe Freundschaft zu seinem Chef, Lt. Martin Quirk. Belson hat, besonders in der TV-Serie eine tiefe Abneigung gegen Hawk (was auch andersherum ist!). Belson kann nicht verstehen, dass Spenser oftmals Hawk als Unterstützung holt. Belson ist stets bemüht, Hawk hinter Gitter zu bringen, was ihm aber nie gelingt.
Sgt Frank Belson worked at the Boston Homicide Unit and is also a good friend of Spenser. An interesting feature of this character is mainly the large difference between the character in the TV series depicted in the novels and illustrated character. In the TV series is a cozy Belson, stocky officer who rises with heart and soul into his job, has a great weakness for Junkfoot, slightly clumsy and naive is faster and speaks as he thinks. In the novels Belson is a lanky man who has for eating nothing, instead, a chain smoker, is anything but clumsy and naive and not call it necessarily Spenser a friend would, but rather a former colleague who annoys him more than good and often can not understand why it is Quirk tips. In the series, as in the novels is a bachelor Belson, Belson being married for a short time later in the novels, but this does not end happily. In the TV series for an episode Belson had a relationship with the professional killer Frankie, and he did not know that she is a professional assassin (episode: "She loves me, she loves me not"). What both have the same interpretation is the deep friendship with his boss, Lt.. Martin Quirk. Belson has, particularly in the TV series, a deep aversion against Hawk (which is also the other way around!). Belson can not understand that Spenser often outdated Hawk support. Belson is always ready to Hawk to jail, but never what he succeeds.
Charakterprofil:
Nachname: Belson
Vorname: Francis (wird nur Frank genannt)
Eltern: unbekannt
Kindheit: unbekannt
Karriere: Ging mit Martin Quirk zusammen auf die Polizei Akademie, arbeitete sich bis zum Sergeant hoch, wird später (Romane) zum Lieutanant befördert
Familienstand: ledig, diverse Beziehungen, u.a. eine kurze Affäre mit der unwissentlichen Profikillerin Francine (Frankie)
Hobbies: TV-Serie: Fastfoot, Sport, Witze, Romane: Rauchen, Sport.
Autos: wechselnd
Character profile:

Surname: Belson
First name: Francis (Friends called him Frank)
Parents: unknown
Childhood: unknown
Career: Went with Martin Quirk together at the police academy, worked his way up to sergeant is high, then (novels) promoted to Lieutanant
Marital status: single, different relationships, inter alia a brief affair with the unwitting professional assassin Francine (Frankie)
Hobbies: TV Series: Fast Foot, sports, jokes, novels, smoking, exercise.
Cars: changing
Der Schauspieler und der Buchautor Ron McLarty:
(Quelle: wikipedia.org - deutsche Übersetzung stammt von mir)

Ron McLarty, geboren am 26.04.1947 (1947-04-26) (age 63), ist ein amerikanischer Schauspieler, , Drehbuchautor und Buchautor. Er begann seine Karriere am Theater in den frühen 70ger Jahren. Einer seiner ersten professionellen Auftritte war die Rolle des "Lucky" in Michael Weller's  "Moonchildren", die die US-Premiere am Arena Stage in Washington DC im November 1971 hatte. McLarty kehrte mit dieser Produktion am Broadway im Jahre 1972 zurück.
Außerdem geniesst McLarty eine erfolgreiche Karriere als Buchautor, obwohl er erst kein Herausgeber für seinen ersten Roman The Memory of Running, finden konnte, erst als kein geringerer als Stephen King  eine Hörbuch Version dieses Buches machte (McLarty las das Buch selber) und King  dazu sagte "Das beste Buch, das man nie gelesen hat".  Nach dem Hörbucherfolg fand sich dann auch schnell ein Verleger und zwar  Viking Press und das Buch kletterte sofort in die oberen US-Charts. McLarty liest seit jener Zeit auch verschiedene andere Hörbücher, z.B.  das Audiobuch Running oder auch  Hunter S. Thompson's Fear and Loathing in Las Vegas.
Ron McLarty, born on 04/26/1947 (age 63) is an American actor, screenwriter and author. He began his career in the theater in the early 70s years. One of his first professional gigs was the role of "Lucky" in Michael Weller's "Moon Children", which the U.S. had its premiere at Arena Stage in Washington DC in November 1971. McLarty returned with this production on Broadway in 1972.

Also enjoy McLarty a successful career as an author, although he was only not a publisher find for his first novel, The Memory of Running, just as was none other than Stephen King an audiobook version of this book (McLarty read the book itself) and King commented "the best book you have ever read." After the success audiobook then found himself too quickly and that a publisher Viking Press, the book and immediately climbed into the top U.S. charts. McLarty reads since that time, various other audio books, eg Running the audio book, or Hunter S. Thompson's Fear and Loathing in Las Vegas.
Ron McLarty hat auch eine eigene Homepage: / Ron McLarty has a own Homepage
http://www.ronmclarty.com
Romane / Novels:
Filmographie:

References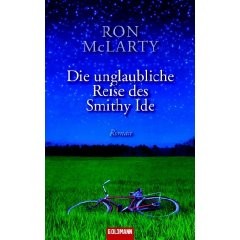 In Deutschland ist ebenfalls einige seiner  Romane erschienen:
Zum Beispiel "Die unglaubliche Reise des Smithy Ide"

Smithson Ide ist ein liebenswerter, freundlicher Mensch, aber im Leben hat er es nicht weit gebracht. Die Tage verbringt er als Produktionsinspektor in einer Spielwarenfabrik, abends sitzt er einsam vor dem Fernseher und trinkt viel zu viel Bier. Freunde hat er keine, erst recht keine Freundin, denn als übergewichtiger 43-jähriger Kettenraucher ist er nicht gerade der Typ Mann, nach dem sich die Frauen umdrehen. Dann verliert Smithy mit einem Schlag alles, woran sein Herz hängt: Seine Eltern verunglücken tödlich mit dem Auto, und fast gleichzeitig stirbt seine Schwester in Los Angeles. Einer plötzlichen Eingebung folgend, setzt sich Smithy auf sein altes, klappriges Fahrrad und fährt los: von Rhode Island nach L.A., quer durch Amerika. Auf seiner langen Reise lässt er in Gedanken sein Leben Revue passieren, lernt die Menschen von ihren besten und schlechtesten Seiten kennen - und verwandelt sich ganz nebenbei in den Mann, der er immer hatte sein wollen.

Kritik:

Aus der Amazon.de-Redaktion
Stephen King war hellauf begeistert. Ron McLartys Die unglaubliche Reise des Smithy Ide sei "der beste Roman, den Sie dieses Jahr nicht lesen können", lobte der "King of Horror" vollmundig. Nicht lesen können? fragten sich viele Leser. Ja, sagte King. Denn das Buch war von vielen Verlagen abgelehnt worden. Glücklicherweise arbeitete McLarthy als Sprecher bei Recorded Books. Und deren Boss erlaubte ihm, sein Manuskript selbst vorzulesen und zum Download bereitzustellen. So wurde Die unglaubliche Reise des Smithy Ide ein Hit für Jogger und Zugreisende, bevor es seinen Siegeszug durch die Buchhandlungen antreten konnte.
Seine Buchbesprechung bei Entertainment Weekly nutzte King vor allem als Rundumschlag gegen die Machenschaften der Verlagsindustrie. Und trotzdem trifft er auch in Bezug auf den Roman den Kern. Denn die Geschichte des übergewichtigen Titelhelden, der mit seinen 279 Pfund nach dem tödlichen Verkehrsunfall seiner Eltern und dem ebenso tragischen Verlust seiner Schwester in Los Angeles auf einem klapprigen Kinder-Fahrrad von Rhode Island mach L.A. durch die USA reist, um an Gewicht ab- und an Erfahrung zuzunehmen, ist faszinierend und komisch, überdreht und beizeiten kitschig, aber immer überaus vergnüglich zu lesen.

Fairerweise hat Stephen King seiner hymnischen Kritik eine Einschränkung beigegeben: "Nein, es ist keine Literatur (bitte vergessen Sie nicht, dass ich das gesagt habe), aber es ist großherzig und so sättigend wie ein Sonntagsbraten zu Hause bei Ihrer Mom.". Wie ein Sonntagsbraten: Das ist genau das richtige Bild. Satte Sprache, schöne Metaphern, rund und fett erzählt. Keine große Literatur, aber beste Unterhaltung. --Stefan Kellerer
In Germany also appeared some of his novels:

For example, "The Incredible Journey of Smithy Ide"

Smithson Ide is a lovely, friendly person, but in life he has not come far. The days he spent as a production inspector in a toy factory in the evening he sits alone watching TV and drinking too much beer. Friends he has none, let alone a girlfriend, rather than overweight 43-year-old chain smoker, he is not exactly the kind of guy, after turning around the women. Smithy then lose everything in one fell swoop, what his heart is: an accident, his parents killed in their car, and almost simultaneously his sister dies in Los Angeles. A sudden impulse to Smithy relies on his old, rickety bike and drives off: Rhode Iceland in LA, across America. On his long journey he makes in his life pass in review idea that people learn from their best and worst sides know - and turns along the way into the man he had always wanted to be.

Criticism:

From the editorial Amazon.de
Stephen King was thrilled. Ron McLartys The Incredible Journey of Smithy Ide is "the best novel you can not read this year," praised the "King of Horror" full-bodied. Can not read? wondered many readers. Yes, King said. Because the book had been rejected by many publishers. Fortunately McLarthy worked as a spokesman for Recorded Books. And their boss allowed him to read his manuscript itself, and ready for download. So The Incredible Journey of Smithy Ide was a hit with joggers and train passengers before it could begin its triumphal march through the bookstores.
His book review in Entertainment Weekly, King used primarily as a slam against the machinations of the publishing industry. And yet it is also true in relation to the novel's core. After traveling the history of the obese title character, who make his 279 pounds after the fatal accident of his parents and the equally tragic loss of his sister in Los Angeles on a rickety children's bicycle from Rhode Iceland LA by the U.S. to off and on weight increase in experience is fascinating and funny, and turns over in time corny, but always very enjoyable to read.

To be fair, Stephen King has added his lyrical critique a caveat: "No, there is no literature (please remember that I said that), but there is large-hearted and as comforting as a Sunday roast at home with your mom." Like a Sunday roast: This is exactly the right image. Rich language, beautiful metaphors, round and fat says. No great literature, but great entertainment. - Stefan Kellerer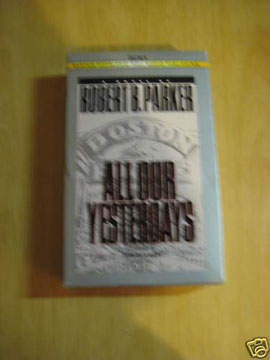 Ron McLarty und "Spenser" Autor Robert B. Parker hatten wieder was gemeinsam gemacht: McLarty liesst Parkers Buch "All our Yesterdays" als Hörbuch!
Ron McLarty and "Spenser: For Hire" author Robert B. Parker, had once again done something in common: McLarty reads Parker's book "All Our Yesterdays" as an audio book!