Spenser: Die Movies mit Joe Mantegna
2001 beschloss man, eine "Spenser-TV-Filmreihe" zu produzieren. Allerdings ohne Robert Urich. Man entschied, dass Urich für die Rolle mittlerweile zu alt wäre und entschied sich ironischerweise für den nur ein Jahr jüngeren Schauspieler Joe Mantegna, der vor allem durch den Film "Der Pate III" und durch TV-Serien wie "Die himmlische Joan" oder aktuell mit "Criminla Minds" bekannt wurde.
Nachdem ich anfangs sehr skeptisch war, gefiel mir Mantegna sehr gut in der Rolle. Die neuen Spenser Filme hielten sich nun noch enger an den Romanen. Insgesamt 3x schlüpfte Mantegna in die Rolle, wovon leider nur der erste Film auch im deutschen TV ausgestrahlt wurde.
2001 decided to produce it, a "Spenser TV movie series". However, without Robert Urich. It was decided that Urich would be for the role now too old and decided, ironically, for only a year younger actor Joe Mantegna, who above all by the movie "The Godfather III" and television shows like "Joan of Arcadia" or up to date with "Criminla Minds" was announced.

When I was very skeptical at first, I really liked Mantegna in the role. The new Spenser films were now even closer to the novels. A total of 3x Mantegna slipped into the role, which was unfortunately only the first film also aired on German TV.
Übersicht der 3 Filme: / Overview of the three films:
Spenser: Verdächtiges Schweigen (Small Vices) (1999)
Eine Freundin bittet Spenser (Joe Mantegna) um Hilfe: Der Schwarze Ellis soll eine weiße Studentin getötet haben. Mit Partner Hawk und Psychologin Susan (Oscar Preisträgerin Marcia Gay Harden) stößt der Detektiv auf allerlei Ungereimtes…
Privatdetektiv Spenser ermittelt im Fall eines schwarzen Kriminellen, der beschuldigt wird, in einer vornehmen Gegend eine Studentin getötet zu haben. Er stößt auf Ungereimtheiten und muss sich mit rassistischen Vorurteilen auseinandersetzen. Sheik Mahmut-Bey spielte "Hawk".
A friend asks Spenser (Joe Mantegna) to help: The Black Ellis should have killed a white student. With partner and psychologist Susan Hawk (Oscar winner Marcia Gay Harden), the detective met with all sorts of absurd ...
Private investigator Spenser determined in the case of a black criminal who is accused in an upscale area to have killed a student. He met with inconsistencies and has to deal with racial prejudice. Sheik Mahmud-Bey played "Hawk".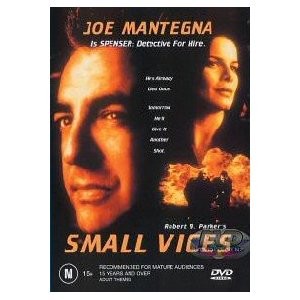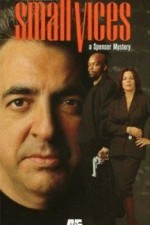 Spenser: Thin Air (2000)
Robert Mantegna stars as tough Boston private eye Spencer in this made-for-cable adaptation of the Robert B. Parker novel Thin Air. It all begins when Lila St. Claire (Yancy Butler, the new bride of police detective Frank Belson (David Ferry), is kidnapped by Latino ganglord Luis DeLeon (Jon Seda). As a personal favor to Belson, Spencer agrees to burrow into the barrio in hopes of rescuing Lila. In so doing, Spencer is made privy to more unsavory aspects of Beantown's Latino subculture--and also learns more than he cares to know about Lila's clouded past. Thin Air was originally telecast by the A&E network on September 12, 2000. ~ Hal Erickson, All Movie Guide
Spenser: Walking Shadow (2001)

A stalker leads Spenser into a dangerous world filled with Chinese mobsters, crooked cops, a crazed seductress, and murder. Robert B. Parker and Joan Parker adapted his novel about the adventures of the legendary Boston private investigator. Joe Mantegna stars as Spenser, with Marcia Gay Harden as Susan Silverman, his longtime girlfriend.

Cast for 'Walking Shadow: A Spenser Mystery'

Joe Mantegna - Spenser
Ernie Hudson - Hawk
Marcia Gay Harden - Susan Silverman
Eric Roberts - DeSpain
Christina Moore - Jocelyn
Tamlyn Tomita - Rikki Wu
Mackenzie Gray - Vinnie
Zu dem in Deutschland ausgestrahlten Film habe ich ein paar Screenshots angefertigt. "Thin Air" habe ich ebenfalls, kommt noch dazu. "Walking Shadow" suche ich selbst seit Jahren vergeblich. Selbst in den USA ist "Walking Shadow" der einzige der 3 Filme, die nicht auf DVD gebracht wurden.
To broadcast the film in Germany, I made a few screenshots. "Thin Air" I will also be additional. "Walking Shadow" I search in vain for years even. Even in the U.S. is "Walking Shadow" the only one of three films that have not been brought to DVD.
Screenshots: Small Vices
Promobilder - Small Vices
Screenshots - Walking Shadow