DIE FAMILIE / THE FAMILY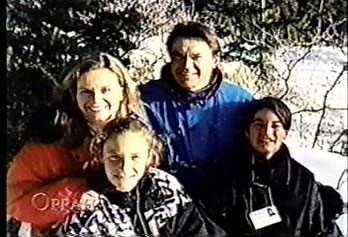 Hier kommt nun etwas über die Familie von Bob. Die Infos berufen sich auf Aussagen und Infos, die ich von verschiedenen Seiten erfahren habe und jeweils zu einem Text in eigenen Worten zusammengefasst habe.
Familienfotos
(Bildquelle: Screenshots aus der Talkshow "Oprah", wo Bob in einer Folge zu Gast war)
Here comes a little about the family of Bob. The information rely on statements and information that I have learned from various sources and have each combined into a text in their own words.

Family photos (Source: Screenshots from the talk show "Oprah", where Bob was in an episode as a guest)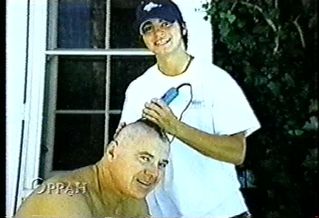 1996: Als bei Bob Krebsdiagnostiziert wurde und er eine Chemo machen mußte, mußten die Haare ab! Sohn Ryan übernahm das Scheren seines Vaters selbst vor.
1996: As was when Bob was diagnosed with cancer and he had to make a chemo, his hair must go! Son Ryan took over his father's arms to be themselves and shaves him.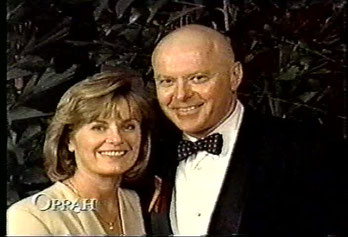 Robert Urich und Heather Menzies: Ein glückliches Ehepaar in einer schweren Zeit!
Robert Urich and Heather Menzies: A happy couple in a hard time!
Ryan Urich (Bobs Sohn)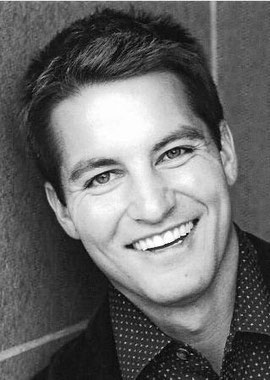 Ryan Urich, geboren am 25.12.1978 ist der Adoptivsohn von Robert. Geboren wurde Ryan in Henderson, Nevada.Er besuchte die Brooks School in Boston, Massachusetts. Ryan ist verheiratet mit Becca verheiratet und beide haben seit 2005 eine gemeinsame Tochter mit Namen Lana. Seit Februar 2007 besucht er die Medizinschule in Miami, Florida um Arzt zu werden.

Auch als Schauspieler war Ryan aktiv, wenngleich nur sehr seltgen und seine Jobs verdankt er seinem Vater Robert
Ryan Urich, born on 12.25.1978 is the adopted son of Robert. Ryan was born in Henderson, Nevada.Er attended the Brooks School in Boston, Massachusetts. Ryan is married to Becca married and both have since 2005 a joint subsidiary named Lana. Since February 2007, he attended the School of Medicine in Miami, Florida to become a doctor.

Even as an actor Ryan was active, works very rarely and his jobs he owes his father Robert
Segeltour des Grauens (1992) (TV) .... Brian Carpenter
... Auch bekannt als: "Survive the Savage Sea" - USA (Originaltitel)

Schrecken in der Nacht (1989) (TV) .... Matt
... Auch bekannt als: "Night Walk" - USA (Originaltitel)
Kamera und Elektrik (Crew):
The Killer Within Me (2003) (V) (Kameraassistenz: B-Kamera)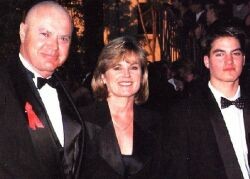 Ryan Urich mit seinen Eltern Bob & Heather. Das Foto muß ca. 1997 entstanden sein.
Ryan urich hatte damals, als bei seinem Vater Krebs diagnostiziert wurde, eigenhändig seinen Kopf für die Chemo rasiert.
Experience:

Medical Student, Ross University School of Medicine (Public Company; 201-500 employees; Education Management industry), November 2008 - Present

 

Ross University School of Medicine
Education:

Ross University School of Medicine, MD, Clinical Medicine, 2006 - 2010
Emily Urich (Bobs Tochter)
Emily Rebecca Urich, geboren 1980 ist von Bob und Heather als Baby adoptiert wurden. Schauspielerisch war sie nie in Erscheinung getreten. Emily ist heute mit Stacey Crowe verheiratet und haben seit 2010 eine gemeinsame Tochter namens Michelle. Emily ist Hausfrau und Mutter.
Emily Rebecca Urich, born in 1980 has been adopted by Bob and Heather as a baby. Acting-she had never made its appearance. Emily is now married with Stacey Crowe and have since 2010 a daughter named Michelle. Emily is a housewife and mother.
Allison Urich (Bobs jüngste Tochter)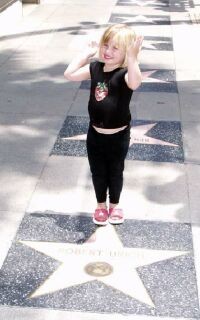 Allison Grady Urich wurde am 18.04.1998 geboren und von Bob und Heather adoptiert. Von Verwandten und Freunden wird sie "Ally" genannt.
Allison Grady Urich was born on 04.18.1998 and adopted by Bob and Heather. Of relatives and friends, it is called "Ally".
Tom Urich (Bobs Bruder): Schauspieler und Fotograf
Tom Urich, geboren am 26.03.1935, ist der ältere Bruder von Bob. Auch Tom ist als Schauspieler tätig, wenngleich wenig erfolgreich.

Meistens war es Robert, der Tom einige Rollen in seinen Filmen und Serien besorgte.
Filmographie
Justin Urich (Bobs Neffe)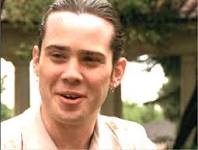 Justin Urich wurde 1978 geboren und ist der Sohn von Bobs Bruder Tom Urich.
Justin Urich ist als Schauspieler und Drehbuchautor tätig.
Justin Urich was born in 1978 and is the son of Bob's brother Tom Urich.

Justin Urich has worked as an actor and screenwriter.
Filmographie:
 2010 Dead Awake (written by)
Die Haustiere von Robert Urich / The Pets
Wir alle wissen ja das Bob ein großer Tierfreund war. In einem Interview das ich vor Wochen gepostet habe, erwähnte er mehrere Pferde. Er hatte aber auch noch andere Tiere über die er auf seiner ehemaligen Homepage schrieb. 2 Hunde sowie 4 Katzen lebten früher im Hause der Urich's, eine der Katzen die er in Andover nahe Boston fand, trug den Namen Spenser. Was mit ihr passiert ist erfahrt ihr im 2. Screenshot: Zum Vergrößern der Bilder einfach anklicken.
We all know the Bob was a great pet friend. In an interview I posted weeks ago, he mentioned several horses. He also had other animals about him on his former homepage. 2 dogs as well as 4 cats lived earlier in the house of the Urich's, one of the cats he found in Andover near Boston, bore the name Spenser. What happened with her is in the 2. Screenshot: Click the pics to enlarge