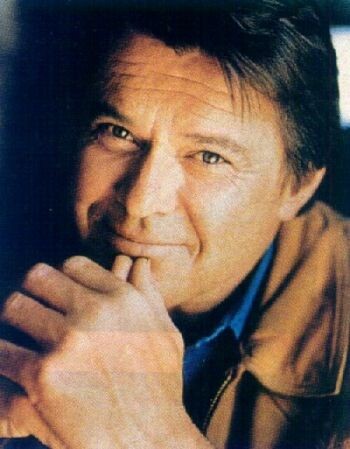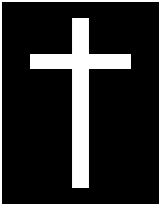 Robert Urich: 19.12.1946  - 
                        16.04.2002
Mein Lieblingsschauspieler, mein Freund, mein Vorbild....in Ewigkeit (My Favorite Actor, my Friend, my role model....forever!)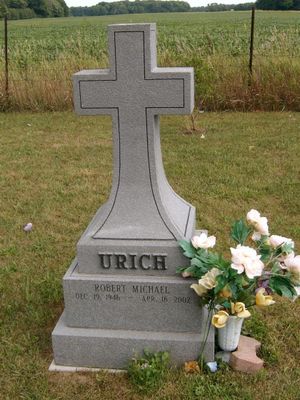 Beerdigt:
Robert Urich wurde nach eigenen Wünschen eingeäschert und die Urne der Familie übergeben. Die Familie beerdigte die Urne bei ihrem Urlaubshaus in Southern Ontario / Kanada
Grabnummer: #6351159
Robert Urich was cremated according to your wishes and hand over the urn of the family. The family buried the urn at their vacation home in Southern Ontario / Canada

Grave number: # 6351159
Nach dem Tod von Bob hat Heather diese Zeilen auf ihre HP geschrieben...
Immer, wenn ich es lese, bekomme ich feuchte Augen und fühle mich an jenen Tag zurückerinnert... :(
After the death of Bob Heather has these lines written on their HP ...
Whenever I read it, I get teary-eyed and feel back reminds me of that day ... :(


My husband was a man of immeasurable courage. He fought his battle like the true gladiator he was. His refusal to succumb to this insidious disease was an inspiration to all of us. He didn't want to go anywhere. He didn't want to leave us-- but his body betrayed him and it was time. I finally whispered in his ear that he could let go……he could come into my heart…..where it is safe, warm and he would not hurt anymore. It was time to go home…..with this, he took his last breath, and lives in my heart forever.

My beloved husband passed away in my arms on Tuesday, April 16th at 1:15 AM. Ryan and Emily held his hands. He was surrounded by the love and support of our family and friends.

All who knew him were touched and inspired by his unbelievable intelligence, wit and uncanny sense of style. I take comfort in the knowledge that nothing was left unsaid between us. We expressed our adoration for each other every single day.

I thank my family and friends for supporting me and our children during this difficult time.

We are all shattered by this loss… I do not know how we will go on without him, but we will… I know that is what –He-- would have wanted.
A Tribute to Robert Urich

What did Robert Urich's death mean to me? It was like I'd lost an old and dear friend. After all, I'd grown up with him. When I was a young teen he was Bob Sanders on "Bob & Carol & Ted & Alice" and "S.W.A.T.'s" Officer Jim Street. In my mid-teens he was Paul Thurston and Peter Campbell on "Tabitha" and "Soap." In my late teen years I had to have my weekly Dan Tanna fix when he starred on "Vega$." I'm a western Pennsylvania girl and he portrayed one of my favorite Pittsburgh Steelers, Rocky Bleier. He took my through my twenties as "Gavilan," Jason Darcy in "Mistral's Daughter" with Stefanie Powers, my all-time favorite of his many television roles, Spenser in "Spenser: For Hire" and as Jake Spoon in the mini-series "Lonesome Dove." Im my thirties he terrified me with "Blind Faith" and "Deadly Relations." And I enjoyed his roles in "American Dreamer," "The Lazarus Man," "Love Boat: The Next Wave," his Spenser and many other telefilms. I was stricken when he announced that he had cancer and prayed for his recovery. I thought he had beaten it and went into my forties watching his TV movies and role on "Emeril."
Then on the morning of April 16, 2002, I got my early AM e-mail and there was a "Breaking News" alert. I clicked on it and the message said that Robert Urich had died. I was in shock and read it again. I simply couldn't believe it. As the day progressed and more news sources were broadcasting his obituary and tributes, I felt profoundly sad that such a good and decent man had been taken prematurely.

For many, Robert Urich will be best remembered for his small-screen sleuth skills: First, as suave private detective Dan Tanna in the classic series Vega$, which ran for three seasons on ABC starting in 1978, and then as the private eye in Spenser: For Hire, which aired on ABC from 1985 to 1988.

I will remember Robert Urich most for his brave fight against synovial cell sarcoma. Following his diagnosis, he waged his cancer battle in public, becoming a strong advocate for cancer research and establishing the Heather and Robert Urich Fund for Sarcoma Research. His commitment helped raise thousands of dollars and give hope to thousands of stricken people.

Those who wish to contribute to the Urich Fund in his memory may send donations to the following address:

Heather & Robert Urich Fund for Sarcoma Research
Univ. of Michigan Comprehensive Cancer Center
1500 E. Medical Center Drive
Ann Arbor MI 48109-0755
Attn: Janet Roth

Checks may be made payable to the U-M Comprehensive Cancer Center with the Urich Fund for Sarcoma Research in the memo line.

ROBERT URICH'S OBITUARY

Robert Urich, the versatile television actor who starred in at least 15 shows over his 30-year career, died April 16, 2002 of cancer. He was 55.

Urich died in Thousand Oaks, California, surrounded by family and friends, according to publicist Cindy Guagenti. The actor announced in 1996 that he was suffering from synovial cell sarcoma, a rare cancer that attacks the body's joints, and underwent several treatments to fight the cancer during the last years of his life.

Urich was an almost constant presence on television during his career. In fact, according to the trivia book "10,000 Answers: The Ultimate Trivia Encyclopedia" (Random House Reference, 2001), Urich holds the record for starring in the most TV shows, with 15.

His credits include "Bob & Carol & Ted & Alice" (1973); "S.W.A.T" (1975-'76); "Soap" (for its first season, 1977-'78); "Vega$" (1978-'81); and "Spenser: For Hire" (1985-'88).

Among his most recent roles: the captain on "Love Boat: The Next Wave" and a talent agent on the short-lived sitcom "Emeril."

The actor also appeared in a handful of theatrical films, including "Magnum Force" (1973) and "Turk 182!" (1985).

Robert Urich was born in Toronto, Ohio, on December 19, 1946. A star athlete in high school, he won a football scholarship to Florida State University, where he took a bachelor's degree in communications. He later earned a master's degree from Michigan State in broadcast research and management, and went to work in the broadcasting business as a salesman for Chicago's WGN.

After a short stint as a TV weatherman, he received his break as an actor when Burt Reynolds, another Florida State alum, helped him land a role playing Reynolds' younger brother onstage in a production of Richard Nash's "The Rainmaker."

On the small screen, Urich's first role was as Bob Sanders in "Bob & Carol & Ted & Alice," the 1973 TV version of the 1969 Paul Mazursky film about mate-swapping. The show didn't last even the customary 13 weeks of one season before being canceled. But Urich landed on his feet, appearing as a Los Angeles police officer in "S.W.A.T." two seasons later.

In the following 25 years, he was never out of a regular series for more than three seasons, and he frequently appeared in TV movies and documentary specials.

Urich was awarded the 2,059th star on the Hollywood Walk of Fame in December 1995. His most memorable roles were likely Dan Tanna, the private detective at the center of "Vega$," and Spenser, Robert Parker's detective hero, in "Spenser: For Hire."

"Night of the Wolf," a movie made for the Animal Planet network starring Urich and Anne Archer, had its debut airing April 15, 2002.

Urich won a Cable Ace Award as 1992's top informational host for his work with National Geographic's "Explorer" series, and a 1992 Emmy award for narrating the Explorer film "U-Boats: Terror on Our Shores."

As one young film critic put it, "If your mom never had a crush on Robert Urich, she didn't watch TV."

Urich acknowledged he had cancer in 1996, but it didn't slow his career much. But in April 2000 he sued Castle Rock Television for $1.47 million, saying his show "The Lazarus Man" was canceled because of his disease.

Urich had told the production company in July 1996 that he had cancer, but that he'd be able to perform. Nevertheless, Castle Rock stopped production a month later. In his breach-of-contract suit, Urich sought the amount, about $73,000 an episode, he would have received for a second season.

The actor became active in cancer research in the late 1990s, establishing a fund, the Heather and Robert Urich Fund for Sarcoma Research, with his wife, actress Heather Menzies, whom he married in 1974. Earlier this year, Urich donated his $125,000 winnings from a February appearance on "Who Wants to Be a Millionaire" to a fund at the University of Michigan Comprehensive Cancer Center, where he was treated.

He received the Gilda Radner Courage Award from the Roswell Park Cancer Institute in Buffalo, New York, and was named national spokesman for the American Cancer Society in 1998.

Urich is survived by his wife; three children, Allison, Ryan, and Emily; two brothers; a sister; and his mother.

A memorial service was held St. Charles Borromeo Catholic Church in North Hollywood on April 19, 2002.

URICH: FOR HIRE

From Vega$ to Spenser, Robert Urich brought a workingman's ethic to a wide variety of television roles.

''I've been lucky enough to conduct a 20-year apprentice program in front of about 40 million people every week,'' Robert Urich told EW in 1993, embellishing his average audience a bit. ''I got to study my craft and my trade while I was working.''

Urich, who died of cancer at 55 on April 16, learned this blue- collar work ethic early. He grew up in Toronto, Ohio, the son of a steelworker who toiled for 45 years in local mills, and earned a football scholarship to Florida State University, where he majored in communications. While holding down an account- executive job at Chicago's WGN Radio, he moonlighted as an actor and was discovered by fellow FSU alum Burt Reynolds, who urged him to move to L.A.

He found a home on TV, racking up 13 series-regular roles -- the most of any actor in history -- including tennis pro Peter Campbell on Soap (killed off after only 13 episodes in 1977 so Urich could focus on the ill-fated Bewitched spin-off Tabitha) and flashy PI Dan Tanna on 1978-81's Vega$. He did his finest work as a sensitive Boston detective on Spenser: For Hire (1985-88), but ABC buried it on Saturday nights. ''I don't think I ever had a really great time slot,'' Urich later said.

A movie career wasn't in the stars for Urich. He made his big-screen debut as a crooked cop in Clint Eastwood's Magnum Force in 1973, but his leading-man chances cooled after turkeys like the sci-fi spoof The Ice Pirates and fireman drama Turk 182! ''I didn't have the patience to sit around and see if I could make a film career go,'' he said. Miniseries provided him a better chance to show his range as a doomed ne'er-do-well in Lonesome Dove and as a murderous husband in Blind Faith.

In 1996, Urich was diagnosed with synovial cell sarcoma, a rare strain of cancer that attacks the joints. He in turn attacked the disease with a typical can-do attitude. ''I have always played these guys who are capable,'' he explained. ''And now I thought, Maybe it's time to prove you are capable.'' After undergoing chemo and two operations, he was pronounced cured and went back -- where else? -- to work.

He sued the producers of the syndicated Western The Lazarus Man, which had been canceled after Urich's illness was disclosed (the suit was settled out of court), and hosted ABC's medical reality series Vital Signs, still bald from radiation treatments. While touring in the musical Chicago in 1999, he was told the cancer had recurred but went on with the show, winding up on Broadway. As recently as last fall, he was added to the cast of NBC's Emeril in a last-ditch attempt to save the sitcom. ''He came ready to work every day,'' says the show's executive producer, Harry Thomason.

''I just think my longevity has a lot to do with how I was raised, to work hard and respect other folks,'' said Urich, who's survived by his wife of more than 25 years, Heather Menzies (The Sound of Music), two grown children, Ryan and Emily, and Allison, 4. ''I know it sounds hokey, but I think ultimately on television, you can't hide who you are.''