DIE KNALLHARTEN FÜNF (S.W.A.T.) (1975 - 1977)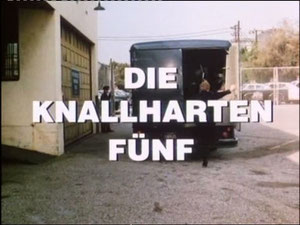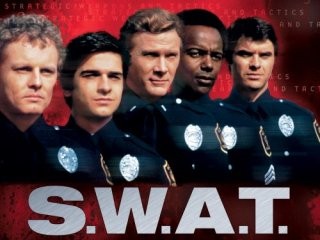 Inhalt:
Um gegen das Verbrechen besser vorgehen zu können, wird innerhalb der Polizei eine neue Sondereinheit gegründet- Die S.W.A.T. Angeführt wird diese Truppe, die nur für Spezialfälle geholt wird von Lt. Hondo Harrelson (Steve Forrest). Seine Leute bestehen aus dem coolen Denker Jim Street (Robert Urich), dem Scharfschützen Deacon Kay (Rod Perry), dem Sonnyboy Dominic Luca (Mark Shera) und dem anderen Scharfschützen T.J. McCabe (James Coleman). Gemeinsam gehen sie gegen die Straftaten der besonderen Gangart vor...
To combat crime more effectively, a new special unit within the police force is established, the SWAT Topping this force, which is taken only for special cases of Lt. Hondo Harrelson (Steve Forrest). His people are made of the cool thinker Jim Street (Robert Urich), the sniper Deacon Kay (Rod Perry), the Sonny Boy Dominic Luca (Mark Shera) and the other sniper TJ McCabe (James Coleman). Together, they go against the offenses of specific gait ...
____________________________________________________________________________
Die knallharten Fünf ist eine Spin-Off Serie der US-Polizeiserie "California Cops" (Die Rookies-Immer im Einsatz) ("The Rookies"), die von 1972-1976 lief und auch im deutschen Fernsehen ausgestrahlt wurde. Der Pilotfilm von "Die knallharten Fünf" wurde innerhalb der Serie "California Cops" als Zweiteiler ausgestrahlt. Gerade dieser Zweiteiler wurde in Deutschland nicht ausgestrahlt. Allerdings wirkte in diesem Zweiteiler lediglich Steve Forrest als Hondo Harrelson mit.
In den USA ist die 1. Staffel der Serie auf DVD erschienen. Die 2. Staffel wird nur von Sony Pictures bei www.amazon.com zum kostenpflichtigen Download angeboten.
Im deutschen TV wurde diese Serie erstmals 1990 bei Pro7 ausgestrahlt und später bei Kabel 1 wiederholt. Die Serie lief auch im deutschen Pay TV beim damaligen Sender Premiere Serie.
Basierend auf dieser Serie entstand 2003 auch ein Kinofilm mit dem Titel "SWAT-Die Spezialeinheit". Der Charakter von Jim Street wurde in dem Kinofilm von Colin Farrell gespielt. In diesem Kinofilm treten Steve Forrest und Rod Perry in kleinen Cameo-Rollen auf.
The SWAT is a spin-off series of the U.S. police series "The Rookies"), which ran from 1972-1976 and was also broadcast on German television. The pilot episode of "SWAT" was on the show "California Boys" aired as a two-parter. It is this two-parter was not broadcast in Germany. However, in this two-parter with Steve Forrest had just as Hondo Harrelson.

In the U.S., the first Season of the series released on DVD. The second Season is only offered by Sony Pictures for paid download at www.amazon.com.

In this German TV series was first aired in 1990 on Pro7 and repeated later in Kabel 1. The series also ran in the German pay TV channel Premiere at the former series.

Based on this series of 2003 was also a feature film titled "SWAT". The character of Jim Street has been played in the movie by Colin Farrell. In this movie, contact Steve Forrest and Rod Perry in small cameo roles.
Ausstrahlungen im deutschen TV:
| | | |
| --- | --- | --- |
| 09.01.92-07/92 | PRO 7 |   |
| 05/93-06/93 | PRO 7 |   |
| 10/94-05/95 | Kabelkanal |   |
| 06/97-02/98 | Kabel 1 |   |
| 17.10.04-20.02.05 | Premiere Serie | samstags und sonntags gg. 17.45 Uhr |
| 17.12.05-30.04.06 | Premiere Serie | samstags und sonntags gg. 17.50 Uhr |
| 20.10.06-06.12.06 | Premiere Serie | montags-freitags 16.55 Uhr (Wdh. 5.15 Uhr) |
Synchronsprecher:

Lt. Dan 'Hondo' Harrelson (Steve Forrest   Kurt Goldstein
Officer Jim Street        (Robert Urich)   Detlef Bierstedt
Sgt. David 'Deacon' Kay   (Rod Perry)      Raimund Krone
Officer Dominic Luca      (Mark Shera)     Stefan Fredrich
Officer T.J. McCabe       (James Coleman)  Bodo Wolf
  

DVDs ZUR SERIE
Am 08.09.2017 erscheint die Serie nun auch in Deutschland auf DVD. Die komplette 1. Staffel wird vorerst veröffentlicht.
Format: Dolby, PAL
Sprache: Deutsch (Dolby Digital 2.0), Englisch (Dolby Digital 2.0)
Region: Region 2
Bildseitenformat: 4:3 - 1.33:1
Anzahl Disks: 3
FSK: Freigegeben ab 16 Jahren
Studio: Pidax film media Ltd. (Alive!)
Erscheinungstermin: 8. September 2017
Produktionsjahr: 1976
Spieldauer: 580 Minuten
DVDs in den USA und Spanien / DVDs IN THE USA & SPAIN:
STAFFEL 1:
Aspect Ratio:
1.33:1

Sprachen (Languages):
englisch(english)
Untertitel (Subtitles):
keine/ none
Number of discs:
3

Studio:
Sony Pictures Home Entertainment

DVD Release Date:
June 3, 2003

Run Time:
564 minutes
STAFFEL 2:
In Spanien allerdings ist jetzt Staffel 2 erschienen! Allerdings auch ohne deutschen Ton:
Die 2. Staffel ist übrigens in Spanien (!!!) auf DVD erschienen und damit das einzigste Land auf Erden, die diese Staffel zum Kauf anbietet:
In Spain, however, now Season 2 is released! However, even without German Sound:
The second Season the way, is released on DVD in Spain and thus the only country on earth that offers this season to buy (!)

Sprachen:englisch, spanisch - keine deutsche Tonspur
Languages: english, spain

Weitere Infos:
S.W.A.T. (1976) SEASON 2
USA TV SERIES POLICE-ACTION ON 6 DVD BOX SET REGION 2 PAL
BRAND NEW OFFICIAL SONY RELEASE

Audio Track:
Dolby Digital Mono: English, Spanish

Subtitles / Untertitel:
keine

Region Code:
2 Europe

Video System:
PAL

Aspect Ratio:
Fullscreen 4:3

Special Features:
Interactive Menus, Scene Access
Neu: Seit Mai 2012 gibt es Season 2 nun auch in den USA!
New: In May 2012, Season 2 was released in die USA, too
Format: Box set, Color, DVD, NTSC
Language: English
Region: Region 1 (

U.S. and Canada only.

Read more about DVD formats.)
Number of discs: 6
Rated:

NR (Not Rated)

Studio: Shout! Factory
DVD Release Date: May 22, 2012
Run Time: 1080 minutes
Screenshots von mir (Screenshots made by myself)
Zeitschriftenmaterial / Clippings:
Zum Vergrößern bitte das jeweilige Bild anklicken
click to enlarge
SWAT (Kinofilm) (2003)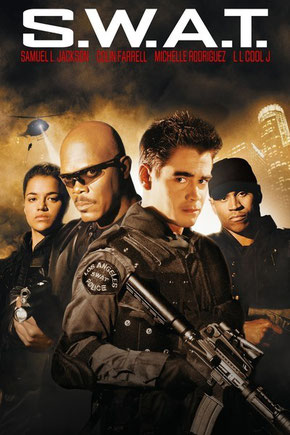 2003 wurde ein Reboot fürs Kino gedreht. Samuel L. Jackson spielte Hondo Harrelson, Colin Farrel (Jim Street), LL Cool J (Deacon Kay), Josh Charles (T.J. McCabe) und Michelle Rodriguez als Chris Sanchez - die "neue" Dominic Luca.
Für den Kinofilm konnten Steve Forrest und Rod Perry für kleine Cameorollen gewonnen werden. Forrest spielte den Fahrer des SWAT-Einsatzwagens und Perry mimte die Rolle von LL Cool Js Vater.
Der Film war mäßig erfolgreich. Eine geplante Fortsetzung wurde nicht realisiert
In 2003 a reboot was made for the cinema. Samuel L. Jackson played Hondo Harrelson, Colin Farrell (as Jim Street), LL Cool J (as Deacon Kay), Josh Charles (as T.J. McCabe) and Michelle Rodriguez as Chris Sanchez, the "new" Dominic Luca.

For the movie could be won for Steve Forrest and Rod Perry for small cameo roles. Forrest played the driver of the SWAT mission car and Perry mimed the role of LL Cool J's father.

The film was moderately successful. A planned continuation was not realized
SWAT - Reboot (2017)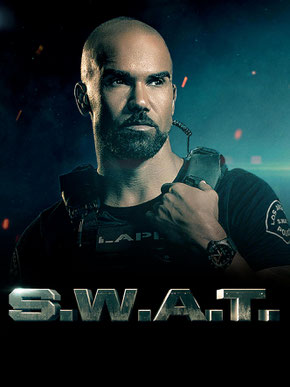 Im Herbst 2017 soll ein Reboot der Serie starten. Zu den hauptdarstellern gehören Shemar Moore ("Criminal Minds" (als Hondo Harrelson), Kenny Johnson (Luca), Jay Herrington (Deacon). Die Rollen von Jim Street und T.J. McCabe sind offenbar noch nicht besetzt - oder werden in der serie nicht mitwirken
In autumn 2017 comes a reboot of the series to start. The main characters are Shemar Moore ("Hondo Harrelson"), Kenny Johnson (Luca), Jay Herrington (Deacon), and the role of Jim Street and T.J. McCabe are apparently not yet filled