SPENSER (Spenser: For Hire)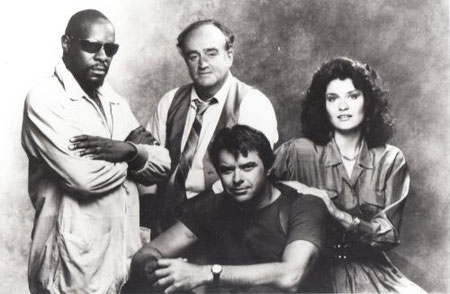 Inhalt
In der von 1985 - 1988 gedrehten Detektivserie geht es um den Bostoner Privatdetektiven Spenser, der vorher als Marine, Profiboxer und als Polizist in Boston gearbeitet hat. Durch die Büroarbeit, die die Arbeit als Polizist mitsichbringt und der Tatsache, dass man ständig jemanden Rechenschaft ablegen muß, quittierte er den Dienst. Spenser, dessen Vornamen man nie erfährt, ist kein gewöhnlicher Privatdetektiv. Er ist ein begabter Hobby Koch und gebildet. Er zitiert aus sämtlichen Dichtern von z.B. Shakespeare, Goethe - oder nactürlich seinem eigenem Namensvetter Edmund Spenser. Sein trockner und ironischer Humor kommt nicht immer bei allem an und er lebt nach seinen eigenen Regeln und Ehrenkodexen, läßt sich von niemandem auf der Nase tanzen. Die Serie beruht auf den Romanen des Autors Robert B. Parker, der seit 1973 bis heute über 30 Romane geschrieben hat.  Nach Parkers Tod im Jahre 2010 schreibt nun Ace Atkins die Romane erfolgreich weiter. Die Romane sind, im Gegensatz zur TV-Serie noch härter geschliffen, was die Charaktersierung angeht, zudem hat jeder Roman eine gehörige Portion ironischen Humor in sich, da Spenser auch mal gerne auf seiner Weise seine Mitmenschen behandelt. Spenser ist aber auch ein sehr ernster Mann, dem Gerechtigkeit über alles geht und zuhören kann.
content
In that of 1985 - 1988 turned detective series is about the Boston private detective Spenser, who has previously worked as a marine, professional boxer and as a police officer in Boston. Through the office work that mitsichbringt work as a policeman and tasache that you have to constantly put someone accountable, he left the service. Spenser, whose first name we never learn, is no ordinary private investigator. He is a gifted amateur chef and well educated. He quotes from poets of all e.g. Shakespeare, Goethe - or his own name nactürlich cousin Edmund Spenser. His dry humor and irony does not always come at all, and he lives by his own rules of conduct and honor, no one can dance on the nose. The series is based on the novels of author Robert B. Parker, who has written since 1973 and today more than 30 novels. The novels are polished unlike the TV series even harder when it comes to Charaktersierung, moreover, every novel is a good dose of ironic humor in itself, as well as Spenser handled happy times on his way to his fellow man. Spenser is also a very serious man, the justice of anything goes, and can listen.

Spensers Freunde

Unterstützt wird er von seiner Freundin, der Schulpsychologin (später arbeitet sie freiberuflich in den Romanen) Susan Silverman, die bereits einmal verheiratet gewesen war und zu Spenser eine ideale Verbindung herstellt. Ebenfalls unterstützt wird Spenser von dem Berufsschläger Hawk, einem zwielichtigem Zeitgenossen, der sich für den meistbietendem seine Dienste anbietet und nicht immer mit Spenser auf derselben Seite kämpft. Hawk, dessen Dienste keineswegs billig sind, wohnt in dem vornehmen Vorort Beacon Hill, ist stets teuer und modern gekleidet und fährt einen schnittigen BMW. Doch Hawk, ein großgewachsener kräftiger Schwarze hat ein Faible für Spenser, weil Spenser loyal ist und ein Mann ist, der auch genau immer tut, was er verspricht. Es passiert auch schon mal, dass beide nicht auf derselben Seite kämpfen und es zu Auseinandersetzungen kommt. In der ersten Folge der 2. Staffel verläßt Susan Spenser. Sie zieht nach New York, um sich selbst zu finden und für die tritt die taffe Staatsanwältin Rita Fiori in Spensers Leben. Beide können sich anfangs nicht riechen, doch allmählich entwickeln die beiden Zuneigung füreinander. In der ersten Folge der 3. Staffel kehrt Susan wieder zurück in Spensers Leben.

Auch bei der Bostoner Polizei hat Spenser Freunde: z.B. seinen ehemaligen Vorgesetzten Lt. Martin Quirk, ein beinharter Vollblut-Cop ohne Kompromisse und den trägerischen Polizisten, Sgt Frank Belson, der ständig mit etwas essbarem in der Hand rumläuft, und der Spenser nur widerwillig Gefälligkeiten erfüllt. Belson wird in den Romanen ganz anders dargestellt, statt einen verfressenden, dicken und einfältigen Cop ist er ein vollschlanker Zyniker, der eine nach der anderen raucht)

In den Romanen taucht später auch der ehemalige Scharfschütze Vinnie Morris aus, eine Art Freund von Hawk, der Spenser ebenfalls unterstützt, aber in der TV-Serie nie auftauchte.

In den späteren Romanen bekommen Spenser und Susan einen Hund, namens Pearle dazu, der auf die gleiche Beschreibung passt, wie Robert B. Parkers eigener Hund. Auch Pearle taucte in der TV-Serie nie auf.
Spenser's Friends

He is assisted by his girlfriend, the school psychologist (she later worked freelance in the novels), Susan Silverman, who had been married before, and Spenser to produce an ideal combination. Spenser is also supported by the professional clubs Hawk, a low life contemporaries, who offers his services for meistbietendem and not always fighting with Spenser on the same page. Hawk, whose services are not cheap, lives in the exclusive suburb of Beacon Hill, is always expensive and state-dressed and drives a sleek BMW. But Hawk, a tall powerful black man has a penchant for Spenser because Spenser is loyal and a man who also does just always do what he promises. It happens now and then, that both are not fighting on the same page and there will be conflicts. In the first episode of the 2nd Season leaves Susan Spenser. She moved to New York in order to find himself and for the tough prosecutor Rita Fiori occurs in Spenser's life. Both can not smell at first, but gradually develop mutual affection the two. In the first episode of the 3rd Season Susan returns to Spenser's life.

Even with the Boston police have friends Spenser: for example his former boss Lt.. Martin Quirk, a die-hard full-blooded cop without compromise and the slow step policemen, Sgt Frank Belson, who constantly walking around with something edible in your hand, and Spenser reluctantly favors met. Belson is in the novels depicted very differently, instead of a verfressenden, thick and stupid cop he is still a slim cynic who smokes one after the other) Wink

In the later novels also emerged from the former sniper Vinnie Morris, assisted by a kind friend Hawk, Spenser the well, but in the TV series never showed up.

In the later novels, Spenser and Susan got a dog named Pearle to the fit the same description, such as Robert B. Parker's own dog. Pearle also taucte in the TV series never ends.

Spenser und seine Autos

Spenser hat eine weitere Leidenschaft - sein Wagen! Seit seinem 18ten Lebensjahr gurkt er mit seinem 65ger Ford Mustang durch Boston, ein Wagen, wo weder die Heizung noch Fensterkurbler funktionieren. In der  6. Episode der 2., Staffel ("The Long Hunt" ; keine deutsche Ausstrahlung)  explodiert sein heißgeliebter Wagen und er steigt auf einen Neuwagen um. Diesen fuhr er jedoch nur in 10 Folgen, da Spenser nie richtig "warm" mit dem Wagen wurde. Ab Folge S02E15  tauscht er diesen Wagen gegen einen 66ger Mustang ein, den Spenser zufällig bei einem Einsatz entdeckt und er den Besitzer durch einen Auto-Tausch bewegen kann. Diesen Wagen fuhr er bis zum Ende der TV-Serie. In dem Reunion "Combate Zone" fuhr Spenser dann einen 94ger Ford Probe,  Und in den Reunions "The Judas Goat" und "A Savage Place" fuhr Spenser einen 67ger Ford Mustang. In "Pale, kings and Princes" war Spensers Auto nicht zu sehen.

Ich habe auch mehr Details, inkl. Bilder dazu gepostet:
Spenser and his cars

Spenser has another passion - his car! Since his 18th birthday he gurkt with his 65ger Ford Mustang by Boston, a car, where neither the heating nor Fensterkurbler function. In the 6th episode of 2nd, season ("The Long Hunt"; no German broadcasting) explodes his dearly beloved cars and it rises to a new car to. This he said, however, only 10 episodes because Spenser never "warm" was with the car properly. From episode S02E15 he exchanged this car into a Mustang a 66ger, discovered the Spenser randomly when used and it can move the car owner through an exchange. This car he drove to the end of the TV series. In the Reunion "Combate Zone" went Spenser then a 94ger Ford Probe, and in the Reunions "The Judas Goat" and "A Savage Place" Spenser took a 67ger Ford Mustang. In "Pale Kings and Princes" Spenser's car could not be seen.
For more details, incl. pictures please click here
Figur Spenser: Unterschiede von TV-Serie zu den Romanen (Figure Spenser: Differences by TV series to the novels)
Das ist Spenser:

Spenser ist ein ehemaliger Seal, der anschliessend Berufsboxer wurde, sich nach einem schweren Kampf zurückzog und Polizist wurde. Weil ihm der Bürokram und die Tatsache, einen Chef zu haben auf den Geist ging, kündigte er und machte sich als Privatdetektiv selbständig. Spenser ist alles andere als ein normaler Detektiv. Er ist ein unglaublich guter Hobby-Koch, ernährt sich sehr gesund, ist belesen und kennt nahezu alle wichtigen Zitate berühmter Dichter auswendig, hat eine Schwäche für irischen Whiskey und Dosenbier sowie für flotte Witze. Spenser ist ein Typ, der sich so leicht nicht verarschen läßt. Geld bedeutet ihm nicht soviel, hat oft Probleme den Monat durchzukriegen und sein Ehrenkodex ist ihm heilig! Er lehnt auch mal mit einem Lächeln einen gutbezahlten Job ab, wenn ihm der Klient oder der Fall nicht passt - ganz gleich, was er zu zahlen bereit ist. Spenser hat noch eine Schwäche - Sein alter, klapperiger dunkelgrüner 66ger Ford Mustang, immer noch "sein erster". Die Heizung hat sich schon vor Jahren verabschiedet und er mußte auch schon etliche Verfolgungsjagden und Schießereien aushalten. In der Folge "The Long Hunt  (S02E06) (nicht in Deutschl. gezeigt) fliegt sein Wagen bei einem Fall in die Luft, fährt dann einen Neuwagen, einen Ford Mustang GT, aber 10 Folgen später schafft er es, einen 66ger Mustang  zu bekommen und tauscht dafür seinen Neuwagen ein. Spenser ist ausserdem ein Detektiv mit dem Herzen auf dem richtigen Fleck, zeigt auch mal Gefühle und macht sich Gedanken zu dem, was er macht und anrichtet. Sein Herz gehört einzigst Susan Silverman, für die er durchs Feuer gehen würde...
That's Spenser:

Spenser is a former Seal, which then became a professional boxer, withdrew after a heavy battle and policeman was.
Because he felt the back office stuff and the fact of having a boss on the mind, he resigned and started his own business as a private investigator.
Spenser is anything but an ordinary detective.
He is an incredibly good amateur chef, eats very healthy, is well read and knows almost all the important quotes famous poet by heart, has a weakness for Irish whiskey and beer cans and liquor for jokes.
Spenser is a guy who so easily can not be kidding.
Money meant to him not so much, often has trouble ahead from the month and his code of honor is sacred to him!
He leans sometimes with a smile a well-paid job from when him, the client or the case does not fit - no matter what he is willing to pay.
Spenser has a weakness - his age, Ramshackle dark green 66ger Ford Mustang, still "his first".
The heater has been adopted many years ago and he had even endure some car chases and shootouts.
In the episode "The Long Hunt (S02E06) (not shown in Germany) Flying his car in a case into the air, then drives a new car, a Ford Mustang GT, but 10 episodes later, he manages to get a 66ger Mustang
heard and exchanged for its new cars a. Spenser is also a detective with the heart in the right place, showing sometimes feelings and is worried about what he does and havoc. His heart belongs Susan Silverman, for whom he would pass through the fire
....

Unterschied: TV-Serie und Romane:

In den Romanen habe ich immer das Gefühl, dass Spenser zu einem Kampftrinker hingestellt wird, leert oft (besonders in den ersten Romanen) eine Dose Bier nach der nächsten und hat in den Romanen auch mehr Ecken und Kanten - und ist auch schönen Frauen nicht abgeneigt. Als Susan in New York war, hatte er auch schon da und hier mal eine "schnelle Affäre"
In dem Spenser Roman "Schmutzige Affären" sind weitere Details, die in der TV Serie anders waren:

* Susans Ex-Mann heißt in den Romanen Brad Silverman, er hat sich seinen Nachnamen ändern lassen, weil er meint, dass Juden im Busiiness keinen Erfolg haben, in den Namen Sterling.

* Brad war nach Susan noch mindestens 2 weitere Male verheiratet und hat aus diesen Ehen 3 Kinder gezeugt.

* In der Serie war Susans Ex ein recht sympathischer, erfolgreicher Geschäftsmann, in dem Roman ist er ein schmieriger Gigolo, der zwar auch Geschäftsmann ist, aber stets chronisch pleite ist

* In der TV Episode lernt Spenser Susans Ex erst kennen, in dem Roman werden sie auch das erste Mal erst bekannt
Difference: TV series and novels:

In the novels I've always felt that Spenser is placed into a fight drinkers emptied often (especially in the early novels), a can of beer after another and has in the novels even more corners and edges - and is also beautiful women are not averse . When Susan was in New York, he had already arrived and here is a "quick affair"

In the Spenser novel, "Dirty affairs" are other details that were different in the TV series:

* Susan's ex-husband Brad Silverman said in his novels, he can change his last name because he thinks that the Jews have Busiiness not, in the name Sterling.

* Brad was still married to Susan at least 2 more times and has 3 children from these marriages witnessed.

* The series was a very likeable Susan's ex, a successful businessman in the novel he is a smarmy gigolo who is even a businessman, but is always chronically broke

* In the TV episode Susan's ex Spenser learns to know only in the novel, they are also the first time only known

Among the broadcast schedule, there's a great slide show with 60 images of "Spenser: For Hire". Very worthwhile to look at it :) Currently there are 121 (!) Images in the slide Shoiw. So take your time :)
Unter den Ausstrahlungsterminen gibts eine große Dia-Show mit 60 Bildern aus "Spenser". Sehr lohnenswert, es sich anzusehen :) Derzeit befinden sich 121 (!!!) Bilder in der Dia-Shoiw. Also nehmt euch Zeit mit :)

Ausstrahlungen im deutschen TV / Airings in the german TV:
| | | |
| --- | --- | --- |
| 20.08.87-05/88 | Sat.1 |   |
| 09/88-03/89 | Sat.1 |   |
| 03.03.89-12/89 | Sat.1 |   |
| 05.08.91 | PRO 7 | 20.15 Uhr (Pilotfilm) |
| 07.08.91-01/92 | PRO 7 | mittwochs abends |
| 14.04.94-09/94 | Kabelkanal |   |
| 11.10.95-01/96 | Kabel 1 |   |
| 05.01.96-26.01.96 | RTL | freitags gg. 21.15 Uhr (Spielfilme) |
| 23.12.96 | RTL 2 | 22.35 Uhr (Spielfilm 'Mauer des Schweigens') |
| 02.12.98-21.05.99 | Kabel 1 |   |
| 05.02.01-20.04.01 | Kabel 1 |   |
| 30.08.01-01.11.01 | Kabel 1 | mittwochs 0.20 Uhr |
| 01.07.02-20.09.02 | Premiere Serie | montags-freitags 11.35 Uhr (Wdh. gg. 6.30 Uhr) |
| 07.05.03 | Premiere Start | im Nachtprogramm |
| 07.05.03-28.07.03 | Premiere Serie | montags-freitags 15.25 Uhr (Wdh. im Nachtprogramm) |
| 19.01.04-30.03.04 | Premiere Serie | montags-freitags 18.35 Uhr (Wdh. im Nachtprogramm)         |
Charakterprofile (wird stetig ergänzt)
Character Profiles (to be completed continuous)
Spenser

Nachname: Spenser
Vorname: unbekannt
Geburtsjahr: 1936 (laut des ersten Romans, dieses ändert sich jedoch im Laufe der jüngeren Romane natürlich)
Geburtsort: Laramie, Wyoming
Körpergröße: 1,85 m
Eltern: Sam Spenser (Vater), Vorname der Mutter bisher unbekannt
Kindheit: Spensers Mutter starb an einer Krankheit, bevor Spenser geboren wurde. Er kam durch einen Kaiserschnitt ur Welt. Wuchs bei seinem Vater, Sam Spenser und seinen beiden Onkels mütterlicherseits, Cash und Patrick auf. Sam, Patrick und Cash arbeiteten als Tischer / Schreiner (Carpenters) ihrer eigenen kleinen Firma, Spenser half als Teenager nach Schulschluß oft aus. Er hatte in der Kindheit einen besten Freund, der später als Erwachsener an Drogen starb. Zudem hatte Spenser einen Freund, der Jack Fenwick hiess und eine schwere Kindheit bei seinen Eltern hatte. Hatte zudem als Teenager eine beste Freundin, Jeannie, die in ihn verliebt war. Als Teenager hatte Spenser ihr aus einer schweren Familienkrise befreit und um ihr Leben zu beschützen, damals seinen ersten Menschen getötet. Sein Vater lebt heute noch, Spenser telefoniert gelegentlich mit ihm (TV-Serie). Hatte als Teenager eine Schwäche für Kriminalromane, bevorzugt die "Nero Wolfe" Romane von Rex Stout. Vater und beide Onkel sind mittlerweile auch verstorben.

Karriere: Ging in Denver aufs College, wo er ein Basketball-Stipendium erhielt, mußte dieses wegen einer schweren Knieverletzung aufgeben, war bei der Armee, diente im Korea-Krieg, anschliessend eine Karriere als Profiboxer, zog sich da nach einer herben Niederlage zurück, heuerte dann als Undercover-Cop bei der Bostoner Polizei an, wo er nach einigen Dienstjahren gefeuert wurde, weil er sich Vorgesetzten nicht unterordnen konnte. Arbeitet seitdem selbständig als Privatdetektiv, bevorzugt im Kapitalverbrechen
Familienstand: ledig, diverse Kurzbeziehungen u.a. mit Rita Fiore, Langzeitbeziehung mit Susan Silverman, keine Kinder
Hobbies: Leidenschaftlicher und guter Koch, Literatur, bevorzugt und zitiert große Dichter, Sport (Baseball & Basketball), Fan von den Bostoner Red Sox, Boxen und Leistungssport, Schnitzen (am Anfang der Roman-Reihe)
Autos: 65ger Ford Mustang, dunkelgrün, später einen 87ger Ford Mustang GT, den er dann10 Folgen später gegen einen 66ger Ford Mustang eintauschte.
Spenser

Name: Spenser
First name: unknown
Born in 1936 (according to the first novel, this, however, changes in the course of recent novels, of course)
Birthplace: Laramie, Wyoming
Height: 1.85 m
Parents: Sam Spenser (father), the mother's first name hitherto unknown
Childhood: Spenser's mother died of illness before Spenser was born. He came through a cesarean section for the world. Maternal stature with his father, Sam Spenser and his two uncles, Patrick and cash on. Sam, Patrick and Cash worked as Tischer / carpenter (Carpenters) their own small company, Spenser helped a teenager after school often. He had a best friend in childhood, who died later as an adult on drugs. Moreover, Spenser had a friend whose name was Jack Fenwick and had a difficult childhood with his parents. Also had a best friend as a teenager, Jeannie, who was in love with him. As a teenager, Spenser had freed her from a serious family crisis, and to protect their lives, then killed his first man. His father still lives, Spenser occasionally telephoned him (TV series). As a teenager had a penchant for mystery novels, preferably the "Nero Wolfe" novels by Rex Stout. Father and uncle both are now deceased also.

Career: Went to Denver for college, where he received a basketball scholarship, had to this to give up because of a serious knee injury, was in the Army, served in the Korean War, back then a career as a professional boxer, retired there after a bitter defeat , then hired as an undercover cop in the Boston police, where he was fired after a few years of service because he could not subordinate supervisors. Since worked independently as a private investigator, preferably in capital cases
Marital status: single, brief relationship with Rita Fiore, longtime relationship with Susan Silverman, no children
Hobbies: Passionate and good cooking, literature, and preferably quoted great poet, sports (baseball and basketball), a fan of the Boston Red Sox, Boxing and Sports Performance, carving (at the beginning of the novel series)
Cars: 65ger Ford Mustang, dark green, later a 87ger Ford Mustang GT which he then 10 episodes later changed with an  66ger  Ford Mustang.
Hawk:

Nachname: unbekannt
Vorname: unbekannt
Eltern: unbekannt
Geschwister: Eine Schwester, Cynthia (Butler nach ihrer Eheschliessung) wurde ermordet
Kindheit: Eltern starben, als Hawk noch klein war, wuchs in den Slums von Washington bei einem Freund seines Vaters auf
Karriere: Wäre beinahe in der Gosse gelandet, wurde erst durch seinen Vater auf die richtige Bahn gelenkt, danach Vietnam-Kriegs-Veteran, Arbeit als Profi-Boxer, versuchte sich eine Zeitland erfolglos als Privatdetektiv, später versch. Jobs als Geldeintreiber, Profischläger und Profikiller. Hilft Spenser öfters bei seinen Aufträgen
Familienstand: einmal verheiratet, seine Frau wurde ermordet, keine Kinder. Kurzzeitige Beziehung mit Alicia (in der 3. Staffel)
Hobbies: Elegante und starke Frauen, Guter Wein, Boxen und anderer Leistungssport, Waffen, Klavierspielen, Jazzmusik.
Autos: Verschiedene Typen von BMW (TV-Serie & Romane) und Mercedes (Romane)
Hawk:

Last name: unknown
First name: unknown
Parents: unknown
Siblings: a sister, Cynthia was (Butler after her marriage) murdered
Childhood: parents died when Hawk was young, grew up in the slums of Washington to a friend of his father
Career: Had almost landed in the gutter, was first directed by his father on the right track, then Vietnam war veteran, working as a professional boxer, a period country tried unsuccessfully as a private investigator, and later various jobs as debt collectors, professional clubs and professional killer. Spenser often helps with his orders
Marital status: married once, his wife was murdered, no children, shorttime relationship with Alicia (3rd. Season)
Hobbies: Elegant and strong women, good wine, boxes and other competitive sports, guns, playing piano, jazz.
Cars: Several types of BMW (TV series and novels) and Mercedes (novels)
Dr. Susan Silverman

Nachname: Silverman, geborene Hirsch
Vorname: Susan
Eltern: Vater war Apotheker, Apotheke in der Humphrey-Street, Mutter war Hausfrau
Kindheit: bis zum 18. Lebensjahr Einzelkind, bekam dann eine Schwester. Der Vater führte die Familie jeden Freitag abend zum Essen aus ins Hotel Edison in Lynn. Gutes Verhältnis zu ihrem Vater, etwas schlechteres zur Mutter. Hatte eine taubstumme gleichaltrige Cousine, die Susan die Gebärdensprache beibrachte. Sie starb 11jährig, als sie vom Auto überfahren wurde, als sie einen Ball hinterherlief, den Susan ihr zuwerfen wollte. Dieses traumatische Ereignis war einer der gründe, warum Susan Psychologie studiert hatte.
Karriere: Nach der Scheidung studierte sie Pschologie, bestand diese mit Auszeichnung, arbeitete dann als Schulpsychologin, später machte sie sich selbständig.
Familienstand: geschieden von Brad Silverman (Sterling), keine Kinder. Diverse Beziehungen. Lebenspartnerin von Spenser, nach der Trennung war sie in New York einige Zeit mit Russell Costigan liiert, kehrt dann zu Spenser zurück. Susan war schwanger von Spenser, verlor das Kind durch einen gemeinsamen Autounfall. Hat seit einigen Jahren mit Spenser zusammen einen kleinen Mischingshund mit Namen Pearl.
Hobbies: Intellektuelle Bücher, gesundes Essen, Pelzmäntel, ihr Hund Pearl, klassische Musik, guter Wein
Autos: diverse, wechselnde Marken
Name: Silverman, Hirsch was born
First name: Susan
Parents: father was a pharmacist, a pharmacy in the Humphrey Street, mother was a housewife
Childhood to 18 Age was an only child, then a sister. The father took the family to dinner every Friday evening from the Hotel Edison in Lynn. Good relationship with her father, a little worse for the mother. Had a deaf-mute cousin the same age, the Susan taught sign language. She died  when she was 11 and run over by a car when she ran after a ball that Susan wanted to throw it. This traumatic event was one of the reasons why Susan had studied psychology.
Career: After her divorce, she studied Pschologie, this was with honors, then worked as a school psychologist, and later started his own business.
Marital status: divorced from Brad Silverman (Sterling), no children. Various relationships. Life partner of Spenser, after the separation, she had a relationship in New York some time with Russell Costigan versa, then back to Spenser. Susan was pregnant with Spenser, the child lost by a common car accident. Has for some years together with a small Spenser Mischingshund named Pearl.
Hobbies: intellectuals books, healthy food, fur coats, her dog, Pearl, classical music, good wine
Cars: diverse, changing brands
Rita Fiore (in TV-Serie: Fiori)

Nachname: Fiore (in der Übersetzung der serie Fiori)
Vorname: Rita
Eltern: unbekannt
Kindheit: unbekannt, Eltern waren wohlhabend
Karriere: Jura Studium in Princeton, arbeitete als Rechtsanwältin bis sie einen Job als stellvertretende Staatsanwältin in Boston übernahm. War danach Staatsanwältin in Norfolk County. Später quittierte sie den Dienst und eröffnete eine eigene Kanzlei und arbeitet fortan wieder als Rechtsanwältin. Zuletzt war sie als Prozessanwältin bei Cone, Oakes
Familienstand: geschieden, keine Kinder. Diverse Beziehungen, u.a. mit Spenser
Hobbies: Martinis, Kettenraucherin, Mäünnerverschlingend, scharfzüngige Dialoge (Romane) klassische Musik, Romantik (TV-Serie)
Autos: wechselnd
Name: Fiore (in german called Fiori)
First name: Rita
Parents: unknown
Childhood: unknown, parents were wealthy
Career: Studied law at Princeton, worked as a lawyer until she took a job as a deputy prosecutor in Boston. After that was a prosecutor in Norfolk County. She later left the service and opened his own law firm and since then has worked as a lawyer again. Most recently, she worked as a litigator at Cone Oakes
Marital status: Divorced, no children. Various relationships, inter alia with Spenser
Hobbies: martinis, chain smoker, Mäünnerverschlingend, sharp-tongued dialogue (novels) Classical Music, Romance (TV series)
Cars: changing
Lt. (Capt.) Martin Quirk

Nachname: Quirk
Vorname: Martin (Freunde nennen ihn Marty)
Eltern: Vater arbeitete ebenfalls als Polizist, Mutter war Hausfrau
Kindheit: Wuchs in ärmlichen Verhältnissen als Sohn eines Polizisten auf, Quarterback an der Highschool.
Karriere: Krieg in Vietnam, ging danach zur Polizei-Academie, arbeitete sich als Streifenpolizist bis zum Lieutanant hoch, wurde später zum Captain befördert (Romane). In der TV-Serie mußte Quirk nach einem schlimmen Herzinfarkt in den vorzeitigen Ruhestand.
Familienstand: Verheiratet mit Katie seit über 25 Jahren, 2 erwachsene Töchter mit Namen Debbie (verheiratet) und Joan (geht aufs College) (Stand des beruflichen Werdegangs der Töchter ist die TV Folge "Ein üble Affäre" aus Staffel 1)
Hobbies: Sport (Fan der Bostoner Red Sox)
Autos: unbekannt
Name: Quirk
First name: Martin (Friends called him Marty)
Parents: father also worked as a police officer, mother was a housewife
Childhood: Grew up in a poor family, the son of a policeman on, quarterback in high school.
Career: War in Vietnam, went after the police academy, worked as a patrolman up to Lieutanant, was later promoted to Captain (novels). In the TV series after Quirk had a bad heart attack in early retirement.
Marital Status: Married to Katie for over 25 years, 2 grown daughters named Debbie (married) and Joan (going to college) (as of the careers of the daughters is the TV series "Internal Affairs" from Season 1)
Hobbies: sports (fan of the Boston Red Sox)
Cars: unknown
Sgt. Francis (Frank) Belson:

Nachname: Belson
Vorname: Francis (wird nur Frank genannt)
Eltern: unbekannt
Geschwister: Eine Schwester Francine, verheiratet mit Charles 'Charlie' (Nachname nicht bekannt). Francine und Charlie haben eine Tochter, Laurie, die Frank alles bedeutet hatte und im Alter von 15 Jahren an einer Überdosis Kokain verstarb.
Kindheit: unbekannt
Karriere: Ging mit Martin Quirk zusammen auf die Polizei Akademie, arbeitete sich bis zum Sergeant hoch. Weigert sich, die Lieutanant Prüfung zu machen, weil er die Beförderung wegen eines Verdienstes und nicht wegen was schriftlichem erreichen will.
Familienstand: ledig, diverse Beziehungen, u.a. eine kurze Affäre mit der unwissentlichen Profikillerin Francine (Frankie) (TVG Serie). War einmal kurz verheiratet, seine Frau starb kurz darauf (Roman: Brutale Wahrheit)
Hobbies: TV-Serie: Fastfoot, Football & Baseball (passiv), Witze, Romane: Rauchen, Sport (aktiv), photografisches Gedächtnis
Autos: wechselnd
Sgt Francis (Frank) Belson:

Surname: Belson
First name: Francis (Frank is mentioned only)
Parents: unknown
Siblings: One sister Francine, married to Charles 'Charlie' (name not known). Francine and Charlie have a daughter, Laurie, Frank had it all mean, and at the age of 15 years died of a cocaine overdose.
Childhood: unknown
Career: Went with Martin Quirk together at the police academy, worked his way up to sergeant. Refuses to make the Lieutanant examination because he wants to reach the carriage because of merit and not because of anything written.
Marital status: single, diverse relationships, inter alia a brief affair with the unwitting professional assassin Francine (Frankie) (TVG series). Was once briefly married, his wife died soon after (Roman: Brutal Truth)
Hobbies: TV Series: Fast Foot, Football & Baseball (passive), jokes, novels, smoking, exercise (active), photo graphic memory
Cars: Changeable
Spenser auf DVD (Spenser: for Hire on DVD)
In Deutschland sind bislang leider noch keine DVDs erschienen. In den USA sind jüngst alle 3 Staffeln erschienen. Außerdem ist vor Jahren eine Box mit den 4 Reunion Filmen auf DVD erschienen.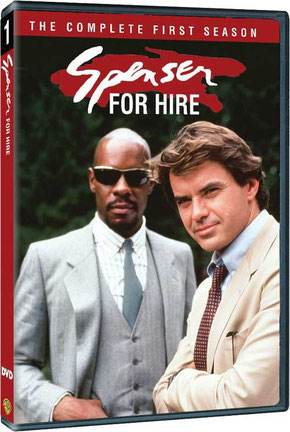 Format: NTSC
Language: English
Region: All Regions
Aspect Ratio: 1.33:1
Number of discs: 6
Rated:

NR (Not Rated)

Studio: Warner Archive Collection
DVD Release Date: September 12, 2014
Run Time: 1106 minutes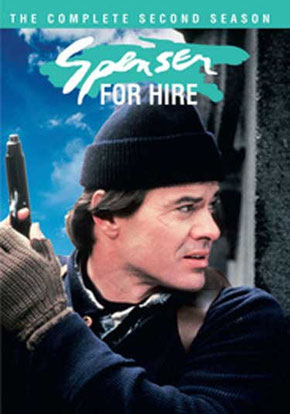 Format: NTSC
Language: English
Region: All Regions
Aspect Ratio: 1.33:1
Number of discs: 6
Rated:

NR (Not Rated)

Studio: Warner Archive Collection
DVD Release Date: May 12, 2015
Run Time: 1060 minutes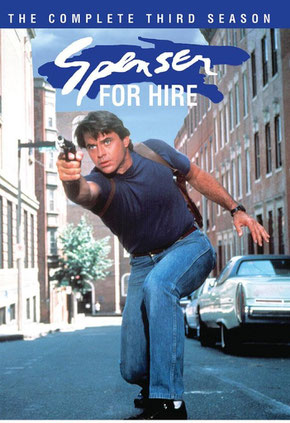 Format: NTSC
Language: English
Region: All Regions
Number of discs: 5
Rated:

NR (Not Rated)

Studio: Warner Archive Collection
DVD Release Date: September 01, 2015
Run Time: 1060 minutes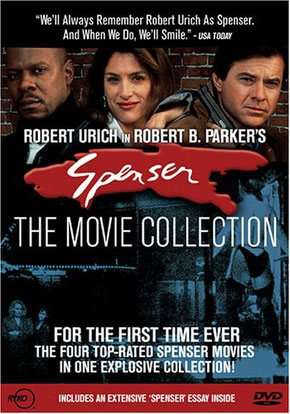 Format: Box set, Color, NTSC
Language: English
Region: Region 1 (

U.S. and Canada only.

Read more about DVD formats.)
Aspect Ratio: 1.33:1
Number of discs: 4
Rated:

Unrated

Studio: Rykodisc
DVD Release Date: June 28, 2005
Run Time: 362 minutes