PATRICK MACNEE (Milo Bentley)
Er ist der beste Freund von Robert Gavilan. Er war bereits der beste Freund von Roberts Vater gewesen. Milo wohnt bei Robert im Gästezimmer und sorgt auch für so manchen Wirbel in Gavilans Leben - jedoch unterstützt er Gavilan auch in seinen "Fällen".
He is the best friend of Robert Gavilan. He had been the best friend of Robert's father. Milo lives with Robert in the guest rooms and also provides for many a vortex in Gavilan's life - but he supports Gavilan in his "cases".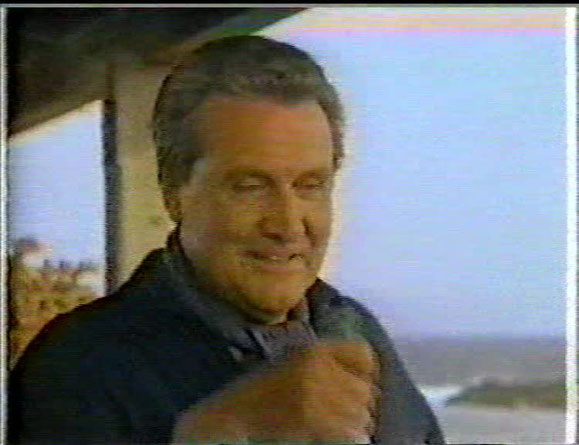 DER SCHAUSPIELER PATRICK MACNEE
Quelle: de.wikipedia.org
Daniel Patrick Macnee (* 6. Februar 1922 in London; † 25. Juni 2015 in Rancho Mirage, Kalifornien) war ein britisch-US-amerikanischer Schauspieler und Hörspielsprecher.
Vom Publikum wurde Macnee zumeist mit der Rolle des Gentleman-Agenten John Steed identifiziert, die er in der Fernsehserie Mit Schirm, Charme und Melone spielte.
Leben und Werk
Sein Vater Daniel Shrimp Macnee war Pferdetrainer; er trank, verspielte das Familienvermögen und verließ schließlich die Familie. Patrick wuchs bei seiner lesbischen Mutter Dorothea Mary (geb. Henry oder Hastings) und deren Lebensgefährtin Evelyn auf. Bis zu seinem elften Lebensjahr musste er den Kilt tragen, obwohl die Familie in Südengland wohnte. Macnee wäre beinahe vom Eton College verwiesen worden, da er einen Spielerring aufgezogen hatte. Nach Abschluss der Schule trat er zunächst als Bühnenschauspieler auf. Seine erste kleine Filmrolle hatte er in Der Roman eines Blumenmädchens (Pygmalion, 1938).
Der Zweite Weltkrieg unterbrach seine beginnende Filmkarriere, denn er wurde von der Royal Navy eingezogen. Nach dem Krieg besuchte Macnee mit einem Stipendium die Webber Douglas School of Dramatic Art in London und setzte seine Filmlaufbahn als junger "Jacob Marley" in Eine Weihnachtsgeschichte (Scrooge, 1951) fort. Enttäuscht über das beschränkte Rollenangebot verließ er England und zog als Produzent nach Kanada und in die Vereinigten Staaten. In Kanada gilt er als Pionier des dortigen Fernsehens.
1954 ging er mit einer Truppe des Old-Vic-Theaters aus London an den Broadway. Später zog er nach Hollywood, wo er verschiedene Fernseh- und Filmauftritte hatte. Zu seinen bekanntesten Filmen der 1950er Jahre gehören Panzerschiff Graf Spee (The Battle of the River Plate, 1956) und Die Girls (1957). 1959 kehrte Macnee nach England zurück, wo er von seinen Erfahrungen in Hollywood und Kanada profitierte. Er wurde Koproduzent der Fernsehserie Winston Churchill: The Valiant Years (1960).
Kurz danach erhielt er die Rolle, die ihn weltweit bekannt machte, John Steed in der Fernsehserie Mit Schirm, Charme und Melone (The Avengers, 1961) und im gleichnamigen Spielfilm von 1998 als Stimme des Invisible Jones. Nach der Absetzung der Serie 1969 hatte er aufgrund der engen Verbindung seiner Person zu dieser Rolle Schwierigkeiten, Angebote zu bekommen. Mit der Neuauflage der Serie 1976 unter dem Titel The New Avengers erhielt er die Möglichkeit, die Rolle des John Steed weiter zu spielen. Die Magie und den Charme der ursprünglichen Serie, insbesondere der Folgen mit Diana Rigg als Emma Peel, besaßen die neuen Folgen jedoch nicht. Danach sah man ihn in dem Fernsehfilm Sherlock Holmes in New York (1976) als Dr. Watson an der Seite von Roger Moore. 1980 war er in dem Abenteuerfilm Die Seewölfe kommen in einer Nebenrolle als Major "Yogi" Crossley zu sehen, an der Seite von Gregory Peck, Roger Moore und David Niven. Der Film entwickelte sich zu einem Kassenerfolg.
In den 1980er und 1990er Jahren war er Gast in mehreren amerikanischen Fernsehserien wie Gavilan (1982), Empire (1984), in 26 Folgen der Fernsehserie Thunder in Paradise (1994) mit Hulk Hogan und Night Man (1997). Weniger bekannt ist seine Rolle in der Fernsehserie Kampfstern Galactica (1978–1980) als Darsteller des erhabenen Herrschers der Zylonen und als Count Iblis. Daneben nahm er auch verschiedene Hörbücher auf.
Größere Nebenrollen hatte er in Joe Dantes Horrorfilm Das Tier (The Howling, 1981) als Dr. George Waggner, in Rob Reiners This Is Spinal Tap (1984) als Sir Denis Eton-Hogg und in dem James-Bond-Film James Bond 007 – Im Angesicht des Todes (A View to a Kill, 1985) als Sir Godfrey Tibbett. Ferner spielte er auch in der Komödie Trottel im Weltall (The Creature Wasn't Nice, 1983) mit Leslie Nielsen in der Hauptrolle. Danach trat er auch in verschiedenen Fernsehserien auf, wie In 80 Tagen um die Welt (Around The World In 80 Days, 1989) neben Pierce Brosnan und als Dr. Watson neben Christopher Lee. Seinen letzten Spielfilm drehte er 2003 mit The Low Budget Time Machine. Im Jahr 2000 wirkte er als Erzähler in Dokumentationen über verschiedene James-Bond-Filme und über Ian Fleming mit.
Einen kurzen Gastauftritt hatte er als Fahrer der Gruppe Oasis in dem Videoclip zum Song Don't Look Back in Anger.
Die deutschen Stimmen von Patrick Macnee sprachen unter anderem Gert Günther Hoffmann und Hans Sievers.
Macnee, der 1959 die US-amerikanische Staatsbürgerschaft annahm, war von 1942 bis 1956 mit Barbara Douglas (1921–2012), von 1965 bis 1969 mit der Schauspielerin Katherine Woodville (1938–2013) und von 1988 bis zu ihrem Tod mit Baba Majos de Nagyzsenye (1914–2007) verheiratet. Mit seinen beiden Kindern aus erster Ehe lebte Macnee zuletzt in Rancho Mirage und La Jolla in Südkalifornien.
Patrick Macnee starb im Juni 2015 im Alter von 93 Jahren in seinem kalifornischen Wohnort. Er hinterließ seinen Sohn Rupert, seine Tochter Jennifer und einen Enkelsohn.
Auszeichnungen
1968 erhielt Patrick Macnee in Deutschland den Goldenen Bravo Otto und 1969 den Bronzenen Bravo Otto der Jugendzeitschrift Bravo. Die Academy of Science Fiction, Fantasy and Horror ehrte Macnee mit der Golden-Scroll-Auszeichnung.
Literatur
Patrick Macnee, Marie Cameron: Blind in One Ear. The Avenger Returns. Mercury House, 1992, ISBN 0-91651585-0 (Autobiografie)
Patrick Macnee, Dave Rogers: The Avengers And Me. Titan Books, 2004, ISBN 1-85286801-5 (Biografie)
FILMOGRAPHIE / FILMOGRAPHY: