Spensers Hauptgegner - Verbrecher Imperien in Boston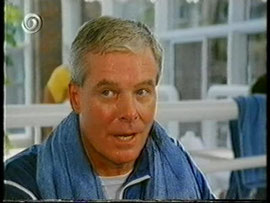 David O' Brien (Tom Flaherty)
Tom Flaherty wurde vom Schauspieler David O'Brien dargestellt ( 1.10.19?? - 14.06.1989). O'Brien kam in der TV-Serie "Spenser" 3x in Gestalt von David O'Brien vor. In den Romanen kam Flaherty noch mehrmals vor.
Staffel 1, Episode 6 - "Die Wurzel alles Bösen" ("Original Sin")
Staffel 2, Episode 11 - "Zeit der Abrechnung" ("Among Friends)
Staffel 2, Episode 22 - "Gerüchte um Hawk" ("The Song of Orpheus")
Tom Flaherty (David O'Brien") wurde auch nochmal in der Folge "Spiel mit Mord" erwähnt, worin er gegen Spenser und Kiosk-Besitzer Benny einen Mordauftrag aus dem Knast erteilte....
Tom Flaherty (David O'Brien ") was also again in the episode "Child's Play", in which he issued against Spenser and kiosk owner Benny a murder contract out of jail ....
Tom Flaherty was portrayed by actor David O'Brien (19?? / 10 / 01 -  1989 / 06 / 14). O'Brien came in front of the TV series "Spenser: For Hire" 3x in the form of David O'Brien. In the novels Flaherty came before several times.

Season 1, Episode 6 - "The root of all evil" ("Original Sin")
Season 2, Episode 11 - "The Reckoning" ("Among Friends)
Season 2, Episode 22 - "Rumors about Hawk" ("The Song of Orpheus")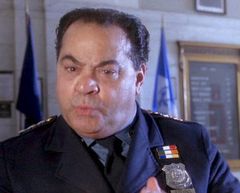 Raymond Serra (Joe Broz)
Der zweite gefährliche Gegner von "Spenser" war Joe Broz. In der TV Serie wurde Joe Broz von Raymond Serra (13.08.1936 - 20.06.2003) verkörpert. Raymond Serra ist auch unter dem Namen Tony Ramond bekannt.

In der TV Serie wurde Joe Broz zwar mehrfach erwähnt, trat aber nur in 2 Folgen (in Gestalt von Raymond Serra) in der Serie auf.
The second dangerous opponent of "Spenser: For Hire" was Joe Broz. In the TV series was Joe Broz Raymond Serra (13.08.1936 - 20.06.2003) embodies. Raymond Serra is also known under the name Tony Ramond.

In the TV series Joe Broz was mentioned several times, but only appeared in 2 episodes (in the form of Raymond Serra) in the series.

The consequences were:
Die Folgen waren:
Staffel 1, Episode 7 - "Verirrung besonderer Art" ("Discord in a Minor")
Staffel 1, Episode 13 - "Tod einer Legende" (" A Day's Wages")

In den Romanen war Joe Broz dagegen sehr viel öfters vertreten.
In the novels Joe Broz was, however, much more often represented.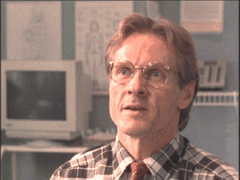 William Sadler (Gino Fish)

Anmerkung: In "Spenser" trat Gino Fish im TV noch nicht in Erscheinung, lediglich in den Romanen. In der "Jesse Stone" - Reihe wurde Gino Fish von William Sadler dargestellt)

Der Charakter des Gino Fish ist der zweite nach Capt. Healy, der in zwei Robert B. Parker Universen zuhause ist. Bostgons Mafia-Oberbösewicht Gino Fish macht "Spenser" und "Jesse Stone" gleichermaßen das Leben schwer.

In "Spenser" taucht Gino Fish das erste Mal 1996 in den Roman "Keine Chance in Las Vegas" auf.  Gino Fish hat da das Mafia-Imperium von Joe Broz, der seit den Anfängen von "Spenser" der Mafia-Oberbösewicht war, übernommen, nachdem sich Broz altersbedingt zur Ruhe setzte und sein Imperium nicht an seinen trotteligen Sohn abgeben wollte. Spenser und Jesse Stone versuchen gleichermaßen, Gino Fish hinter Scghloß und Riegel zu bringen, doch bisher gelingt es beiden nicht, obwohl sie es immer wieder schaffen, seine Geschäfte empfindlich zu sabotieren und einige seiner Handlanger aus dem Verkehr zu nehmen.

Gino Fish hat erstmals im Parker-Universum nun schauspielerisch ein Gesicht in Form von William Sadler bekommen. Eine gute Wahl, nach der Beschreibung seines Types in dem oben besagten Roman kommt Sadler gut in Frage.
Note: In "Spenser: For Hire" Gino Fish appeared on TV still does not appear, only in the novels. In the "Jesse Stone" - Gino Fish series was shown by William Sadler)

The character of Gino Fish is the second to Capt.. Healy, who is in two universes Robert B. Parker home. Bostgons mafia villain Gino Fish makes "Spenser: For Hire" and "Jesse Stone" equally a hard time.

In "Spenser: For Hire" Gino Fish appeared for the first time in 1996 in the novel "No chance in Las Vegas" on. Gino Fish has since the Mafia Empire by Joe Broz, who had been the beginnings of "Spenser" the Mafia-top villain, adopted after the age-related Broz retires and his empire would not give his bumbling son. Spenser and Jesse Stone try both, Gino Fish Scghloß behind bars and bring, but so far not succeeded either, although they always manage to sabotage his business sensitive and take some of his henchmen out of circulation.

Gino Fish for the first time at the Parker universe acting now get a face in the form of William Sadler. A good choice for the description of its type in the above said novel, Sadler is good in question.