Zur Serie "Spenser" ist einiges an Merchindise und Büchern herausgegeben wurden. So schrieb Robert B. Parker ein "Spenser" - Sachbuch mit dem Titel "Spenser's Boston", worin er sämtliche Orte mit Fotos beschrieb, die in der Serie vorkommen.
The series "Spenser: For Hire" is a lot were issued to Merchindise and books. So wrote Robert B. Parker a "Spenser" - fiction book titled "Spenser's Boston," in which he described all the sites with photos that appear in the series.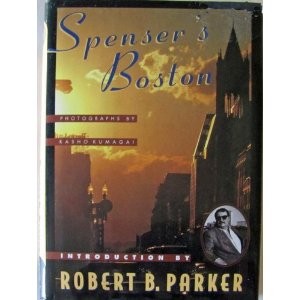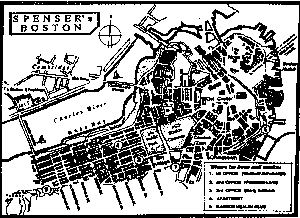 Zur TV-Serie erschienen sogar 2 Actionfiguren zu b"Spenser" und "Hawk"
For the TV-series 2 action figures even appeared on "Spenser: For Hire" and "Hawk"
O-Text dazu:
Spenser is a red-headed "Classic Collection" 12" GI-Joe with his eyebrows colored black and a 70's-style hairdo sculpted on with Super ElastiClay. In truth, he ended up looking a lot more like my image of Jesse Stone. If a decen "Robert Urich" headsculpt ever comes along, I'll re-paint this one with brown hair and call him Stone. His right hand is from a "Moving Soldier of the World." He's wearing Alex Rodriguez's "Seattle Mariners" jersey (from the 12" SLU of A.Rod.) and the leather jacket from the Korean War pilot carded accessory set, with the shoulder patch acetoned off. His pants were Ken's. His pistol came from the Korean War pilot accessory set and his machine gun from some "Ultimate Soldier" accessory pack.
Hawk is the head of Playmates' 12" "Captain Sisko" on the body of an AA CC Joe. His shoes are a pair of Joe boots cut down to "Shoe" size. His pants and shirt and shades are Ken's, his tie a piece of blue ribbon, and his leather jacket was Elvis'. Both of his weapons are from an "Ultimate Soldier" accessory pack.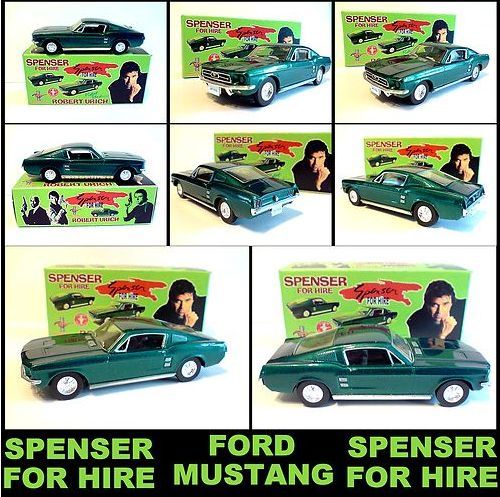 Es gab auch ein Modellwagen von Spensers erstem Mustang aus Staffel 1
Ein 1,43 Scale Diecast FORD MUSTANG, ähnlich dem, dass Robert Urich während der gesamten ersten Staffel dieser Krimiserie fuhr, das Modell wurde bis auf das blanke METALl ausgezogen und wurde überarbeitet und Teile hinzugefügt. Um dieses Modell so nah an der TV FORD MUSTANG ZU MACHEN wurde es  genietet, und es kommt auch mit einem schönen Spenser   Display Box auf das Modell mit DISPLAY, DAS DISPLAY Box hat auch ein aufgedrucktes Robert Urich Autogramm auf zwei Seiten der Verpackung. 
A 1.43 SCALE DIECAST  FORD MUSTANG SIMILAR TO THE ONE THAT ROBERT URICH DROVE THROUGHOUT THE FIRST SERIES OF THIS CRIME SERIES,THE MODEL HAS BEEN STRIPPED BACK TO BARE METAL AND THEN REWORKED AND PARTS ADDED TO MAKE THIS MODEL AS CLOSE TO THE TV FORD MUSTANG AND THEN RIVETED,  AND IT ALSO COMES WITH A NICE SPENSER FOR HIRE  DISPLAY BOX TO DISPLAY THE MODEL WITH, THE DISPLAY BOX ALSO HAS ROBERT URICH'S AUTOGRAPH PRINTED ON TWO SIDES OF THE BOX,