INTERESSANTES & WISSENSWERTES (Interesting Facts)
Landkarte mit Spensers bereisten Orten (Map with Spensers visited places)
Seamus, mein Chef - Moderator in meinem Robert Urich Forum hat sich die Aufgabe gemacht und zu allen Orten (wird noch stetig erweitert!), die Spenser in den Romanen und der TV-Serie bereist hat, eine Landkarte bei google maps erstellt, ausser die offensichtlichen Orte Boston & Cambridge. Die Orte, Flüsse, Berge ect. hat entweder aus seinem Thread  Forum oder aus dem "Robert B. Parker  Companion-Buch" entnommen. Wenn man den blauen Kegel anklickt findet man auch Informationen aus dem entsprechenden Roman oder aus der TV Folge.
Seamus, my Chief-Moderator in my Robert Urich forum has made the task and to all places (to be constantly expanding!), Which Spenser has traveled in the novels and the TV series, created a map on google maps, except the obvious places in Boston & Cambridge. The towns, rivers, mountains, ect. has either taken from his forum thread or the "Robert B. Parker Companion Book." If you click on the blue cone will also find information from the corresponding novel or from the TV series.
Musikgeschmäcker von Spenser, Hawk & Susan
Musical tastes of Spenser, Hawk and Susan
Spenser
mag / like: Jazz, Duke Ellington, Sonny Rollins, Johnny Hartman, Benny Goodman
mag nicht / like not: Hard Rock, Gogi Grant

Hawk
mag / like:: Jazz, Soul, Marvin Gaye
mag nicht / like not:: Hip Hop

Susan
mag / like: Klassik, Waylon Jennings, Jimmy Rushing, Willie Nelson
mag nicht / like not:
Wird stetig ergänzt  / Is supplemented continuously
Spenser's Kindheit
Spenser's childhood
Wie wir ja wissen, gibt es 2 verschiedene Ausführungen, die aus den Romanen und die aus der TV-Serien

Ausgangspositionen:

Romane:
Spensers Mutter starb kurz nach Spensers Geburt, er wuchs bei seinem Vater und seinen beiden Onkeln (beides Brüder seiner verstorbenen Mutter) in  Laramie, Wyoming  auf. Sie arbeitetet in einem eigenen Betrieb als Tischler und Schreiner . Spenser hatte während seiner Kinder und Jugendzeit eine feste Freundin, die Jeannie hiess, mit der er durch dick und dünn ging. Vater und beide Onkels sind heute mittlerweile verstorben. Jeannie lebt noch heute, jedoch hat Spenser seit sehr vielen Jahren keinen Kontakt mehr zu ihr. Zudem war Spenser sehr gut mit 2 Latino-Jugendlichen befreundet, die Aurelio Lopez & Petey Hernandez hiessen.

(Quelle: hauptsachlich alles aus "Chasing the Bear")

TV-Serie:
Die Mutter verstarb auch hier kurz nach seiner Geburt. Spenser wuchs hier allerdings bei seinem Vater auf, der Spenser allein erzog. Über den Beruf des Vater ist nichts bekannt. Sein Vater lebt noch heute im selben Haus, wo Specher aufgewachsen ist. Spenser hatte einen besten Kumpel, der Charlie Moon hiess und mit dem Spenser durch dick und dünn ging. Charlie Moon ist heute durch einen jüngeren Autounfall ums Leben gekommen.

(Quelle: Die Folgen "Nacht der Verräter" und "Schock fürs Leben" - beide aus Staffel 3)
E N G L I S H

As we know, there are 2 different versions, from the novels and from the TV series

Starting positions:

novels:
Spenser's mother died shortly after Spenser's birth, he was raised by his father and two uncles on (both brothers of his late mother) in Laramie, Wyoming. You arbeitetet in a separate operation as a carpenter and joiner. Spenser had, during his childhood and teenage years a steady girlfriend, Jeannie was called, with which he went through thick and thin. Father and uncle are both now deceased now. Jeannie is still living, but Spenser has for very many years no contact with her. Moreover, Spenser was good friends with two Latino youths who were called Aurelio Lopez Hernandez and Petey.

(Source: mainly everything from the novel "Chasing the Bear")

TV Series:
The mother also died shortly after his birth. Spenser here but grew up with his father, who raised Spenser alone. The profile of the father is unknown. His father still lives in the same house where spokespersons grew. Spenser was called had a best buddy, the Charlie Moon and the Spenser went through thick and thin. Charlie Moon has come today by a recent car accident.

(Source: The consequences of "On The Night He Was Betrayed" and "Haunting" - both from Season 3)
Bilder aus Spensers Kindheit  aus der Folge "Nacht der Verräter"
Pictures from Spenser's Childhood from the episode "On the Night he was Betrayed"
von links nach rechts:
1-2) Klein-Spenser, als er zwischen 12-14 Jahre alt war:
3) Klein Spenser bringt Charlie Moon das Fahrradfahren bei:
4) Klein Spenser und sein bester Freund  Charlie Moon rennen auf der Wiese
5) Klein Spenser und Charlie Moon als Meßdiener:
6-8) Erinnerungsfotos aus Spensers Album:
9-10) Spenser und sein Vater (!!!)
11) Spenser und das Haus seines Vaters, wo Spenser auch aufgewachsen ist
from left to right:
1-2) Small-Spenser, when he was between 12-14 years old:
3) Small Spenser brings his best friend Charlie Moon in the cycling:
4) Small Spenser and his best friend Charlie Moon race in the meadow
5 Small Spenser and Charlie Moon) as an altar boy:
6-8) memories from Spenser's album:
9-10) Spenser and his father (!!!)
11) Spenser and his father's house, where Spenser is also grown up

Bilder aus Spensers Kindheit aus der Folge "Schock fürs Leben"
Pictures  from Spensers Childhood from the episode "Haunting"
von links nach rechts:
1-5) Klein Spenser und Charlie Moon
6) Das Haus seines vaters zu der Zeit, als Spenser darin aufgewachsen ist
From left to right
1-5) Small Spenser and Charlie Moon
6) The house of his father at a time when Spenser is grew up
Spenser's Büros / The offices of Spenser
Hier sind Spenser seine beiden Büros, die er in der Serie gehabt hatte.
Here are Spensers both offices, that he had in the TV Show: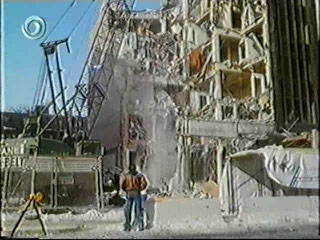 Büro 1 gabs ja nur ganz am Rande im Pilotfilm, als dies gerade abgerissen wurde.
Spensers first office was in the pilot movie, when it was demolished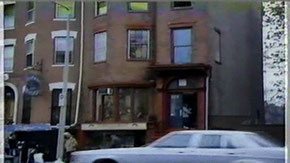 Büro 2 bezog Spenser im Pilotfilm und übernahm es von einer früheren Wahrsagerin. Das Büro befand sich  in der Massachusetts Avenue.(Boylston / Berkeley)
Office 2 prop Spencer in the pilot and took it from a previous fortune teller. The office was located on Massachusetts Avenue. (Boylston / Berkeley)
Hier noch ein Bild des Büros und ein Bild von heute - dies Büro existiert noch (Stand: 2016)
Here is a picture of the office and a picture of today - this office is exist today (2016)
rechts: Büro von 1985 - links Büro von 2016 - die Fenster wurden lediglich erneuert
right: From 1985 - left from 2016 the windows was renewed
Fragen zu Robert Urich / Questions to Robert Urich
Robert Urich hatte zu Lebzeiten auf seiner Homepage Fragen von Fans beantwortet. Hier gibts einige Auszüge, die "Spenser" betreffen".
Robert Urich had answered in his lifetime on his homepage questions from fans. Here you'll find some snippets of concern "Spenser: for Hire".